A schedule 13G filed with the SEC this evening revealed that Tiger Global Management increased its stake in TransDigm Group Incorporated (NYSE: TDG) by roughly $245 million.
---
Tiger Global Management Adds To Its TransDigm Holding
On February 14th, Chase Coleman's firm Tiger Global Management filed its quarterly Form 13F regulatory filing. The filing showed that the investment firm held 1,919,605 shares of TransDigm worth $527.2 million as of December 31st.
The table below summarizes the firm's seven largest holdings reported in the filing. TransDigm was not among Mr. Coleman's top holdings.
Tiger Global Management's Largest Holdings

| Ticker | Name | Holding ($mil) | % Of Portfolio |
| --- | --- | --- | --- |
| JD | JD COM INC | $1,699.1 | 13.4% |
| PCLN | PRICELINE GRP INC | $1,394.7 | 11.0% |
| AMZN | AMAZON COM INC | $1,305.3 | 10.3% |
| APO | APOLLO GLOBAL MGMT LLC | $1,145.4 | 9.0% |
| DESP | DESPEGAR COM CORP | $830.0 | 6.6% |
| MSFT | MICROSOFT CORP | $820.1 | 6.5% |
| BABA | ALIBABA GROUP HLDG LTD | $655.5 | 5.2% |
However, a new filing today revealed that Tiger Global Management purchased an additional 862,395 shares bringing the hedge fund's total ownership stake to 2,782,000 shares worth roughly $790 million as of today's closing price. Assuming no other position changes, TransDigm is now Chase Coleman's seventh largest stock holding.
The company's shares last traded at $284.00 as of Tuesday, down -3.8% over the last month but still up 15.5% over the last year. Could the recent buying activity signal a promising road ahead for shareholders?

source: finbox.io
---
Potential Reasons For Adding Shares
TransDigm Group designs, produces, and supplies aircraft components in the United States. Analysts covering the stock often compare the company to a peer group that includes Spirit AeroSystems Holdings, Inc. (NYSE: SPR), Triumph Group Inc (NYSE: TGI), Rockwell Collins, Inc. (NYSE: COL) and Hexcel Corporation (NYSE: HXL). Analyzing Transdigm Group's valuation metrics and ratios relative to peers provides further insight into why Tiger Global Management purchased shares.
Return on Invested Capital (ROIC) is used to evaluate the ability of a company to create value for all its stakeholders, debt and equity. The company's ROIC of 12.9% is above all of its peers except for SPR (13.4%).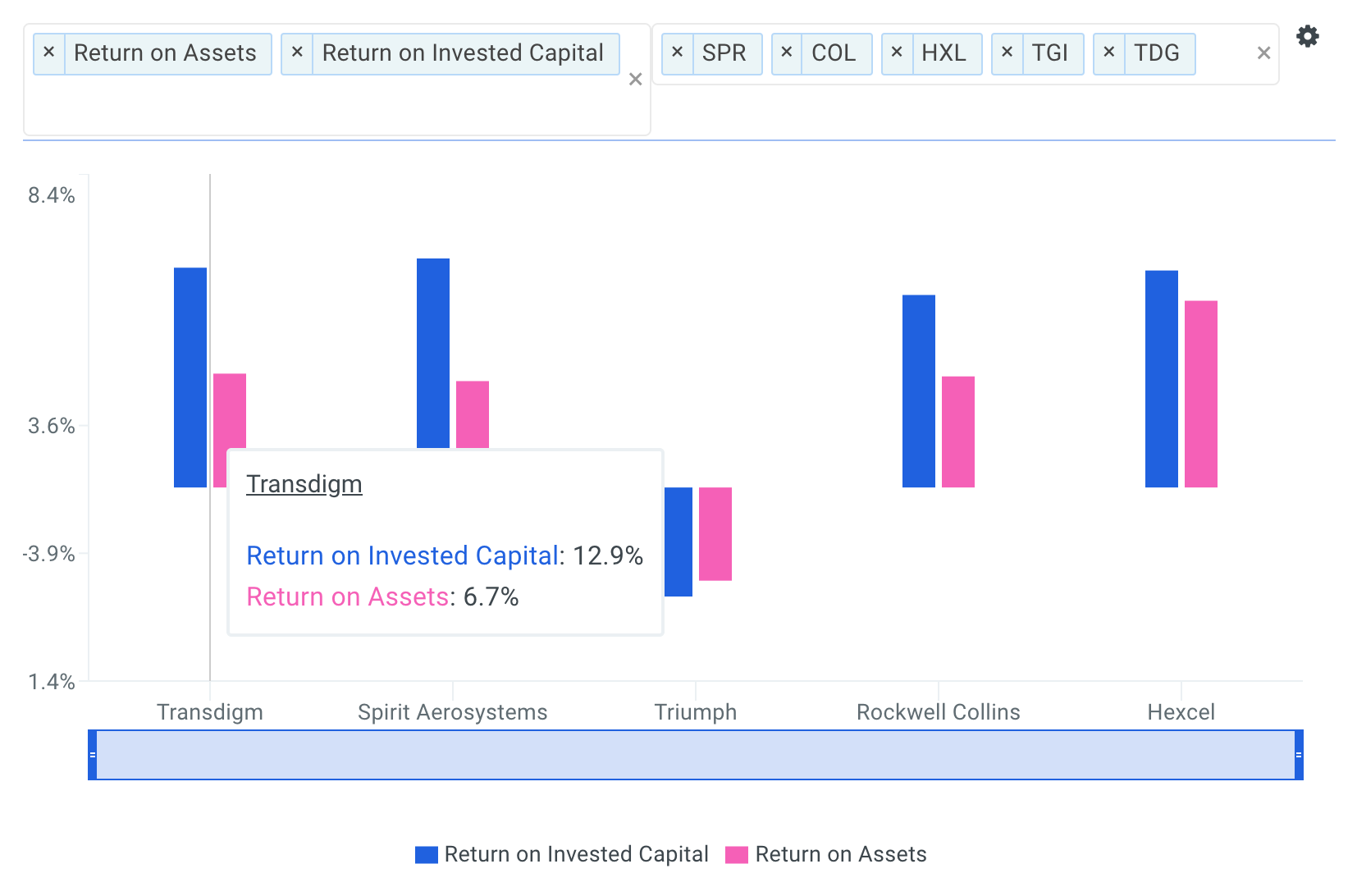 source: finbox.io
Return on Assets (ROA) is another helpful metric that represents the dollars in earnings or Net Income a company generates per dollar of assets. ROA is typically used to gauge the efficiency of the company and its management at deploying capital to generate income for shareholders. It is calculated as follows:
ROA = Adjusted Net Income / Average Total Assets
In general, a higher return on assets suggests management is utilizing the asset base efficiently. The company's ROA of 6.7% is also above the majority of its peers.
The consensus 12-month price target is the average of each individual sell-side Wall Street analyst. The consensus analyst upside or downside equals the percentage difference between the price target and the current stock price. The calculation is simply:
Upside = (Analyst Price Target / Stock Price) - 1
The company's consensus analyst upside of 14.7% is above selected comparable public companies TGI (13.7%), COL (-1.6%) and HXL (2.1%) and only below SPR (22.0%).

source: finbox.io
In addition, a number of finbox.io's valuation models imply that the stock's undervalued. The average fair value estimate of $309.93 implies a 9.1% margin of safety and is calculated from 3 separate analyses as shown in the table below.
Even though TransDigm shares have traded higher over the last year, the stock still appears to be trading at a discount to its intrinsic value. This could be a reason why Chase Coleman's adding to his stake in the company.
It is important to note that investors should never blindly copy the trading activity of illustrious money managers such as Mr. Coleman. However, keeping an eye on their buying and selling activity will help in making a more informed decision.
I recommend investors continue their research on TransDigm to get a more comprehensive view of the company.
---
Author: Brian Dentino
Expertise: financial technology, analyzing market trends
Brian is a founder at finbox.io, where he's focused on building tools that make it faster and easier for investors to research stock fundamentals. Brian's background is in physics & computer science and previously worked as a software engineer at GE Healthcare. He enjoys applying his expertise in technology to help find market trends that impact investors.
Brian can be reached at [email protected].
As of this writing, Brian did not hold a position in any of the aforementioned securities and this is not a buy or sell recommendation on any security mentioned.
---