Finbox.io provides a suite of fundamental investing tools that makes it easier and faster to find undervalued stocks. Research supports that investing based on fundamentals continues to outperform any other strategy and our web-based software helps investors do just that.
Summary of finbox.io:
Pre-built valuation models & charts
Fair value estimates
Powerful stock screener
Free and paid membership
Pre-built Valuation Models & Charts
Our pre-built valuation models save you countless hours that would otherwise be spent in Excel. Simply type in any ticker and the following models will populate directly in your web browser:
Raw and adjusted historical financials
Note: all valuation models listed above may not be appropriate for every company (i.e. DDM for stocks that don't pay dividends). Finbox.io only lists models that are appropriate for a given company.
Model Features
Models that involve projecting future cash flows are built using Wall Street estimates (when available) as a starting point. View our default projections for more detail. In addition, all finbox.io valuation tools are editable - meaning you can edit the assumptions right in the web browser. Members can then save their work and finbox.io will continue to update/roll-forward the model when earnings are reported. There's no longer a need to dig through old Excel files and update a company's financials which can be a gruesome task. Each model can also be downloaded to Excel for audit or additional customization. Both charts and models are easily shareable across social media platforms and embeddable on blogs. See the DCF for Apple (AAPL) below:
Please note the embedded model below is not currently supported on mobile devices. Please view in your desktop browser.
Guided Model Builders
Need help selecting many of the assumptions driving a DCF? Finbox.io's guided model builders is a quick and easy 5-step process that will take you through the major assumptions of a cash flow model.

Our interactive charting tools makes it easy to select assumptions by comparing a stock's historical and projected performance to that of other comparable companies.

Now how do we tie all these models together?
Fair Value Estimates
A fair value estimate is calculated for a stock by averaging the conclusions from each valuation model. Here's an example for AAPL:
Fair value estimates are a great starting point for figuring out how undervalued or overvalued a stock may be. Add a stock to your Watchlist and set a price target to stay up to date on its upside/downside potential.
Interested in finding stocks with the biggest upside?
Stock Screener
The finbox.io stock screener provides the capability to screen the previously discussed fair value estimates. This can be helpful when trying to find stocks with significant upside/downside potential.
Finbox.io's intuitive interface also lets members filter over 275 additional metrics related to valuation, risk, efficiency, financials and forecasts.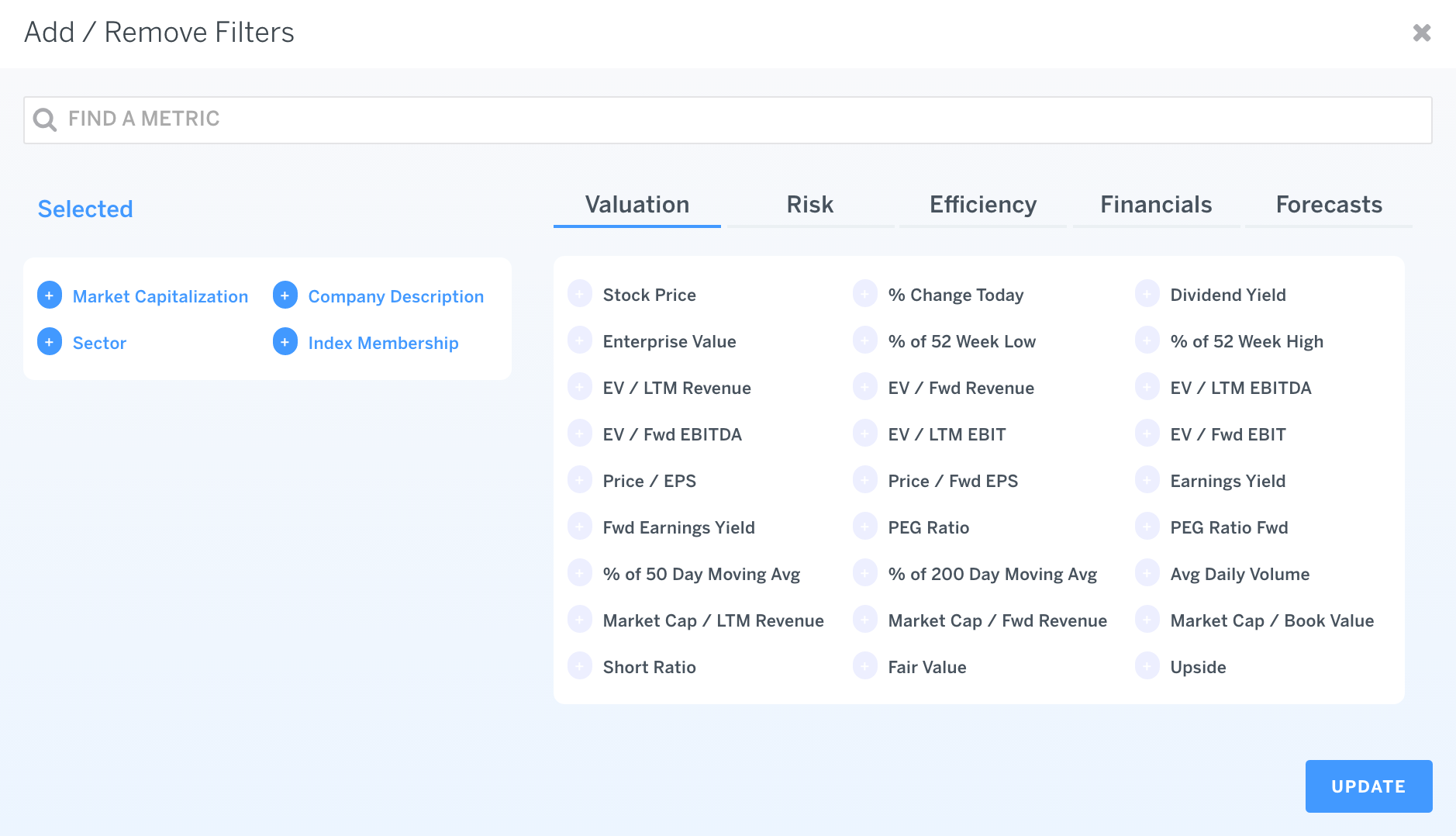 Free & Paid Membership
Finbox.io's Pro membership is currently offered at $39/mo or $390/yr.
After an initial 14-day free trial period, a member's account will be downgraded to a free membership. A free membership we only have access to valuation models and fair value estimates of stocks listed on the Dow Jones Industrial Average index.
---