Q4 Earnings Update
This earnings season continues to be a story of growth. According to Zack's Investment Research, 319 members of the S&P 500 have reported as of Wednesday, February 8th. Total earnings from these companies have grown 5.8% in Q4 compared to 2.8% in Q3 while revenues have increased 2.8% in Q4 vs 2.0% in Q3. Overall, S&P 500 member earnings remain on pace to reach their highest level in nearly two years.
One standout sector has been medical/healthcare stocks. So far these companies have reported revenue growth of 5.9% with 57% beating their estimates. Immediately following the earnings release, these healthcare companies have enjoyed a positive 1.4% stock price impact.
So let's take a look at some fundamentally attractive healthcare stocks that could jump on earnings this week?
6 Healthcare Stocks That Could Jump On Earnings
According to Yahoo finance, there are 65 companies listed in the healthcare sector expected to report earnings this week (2/13 - 2/17). However, only six appear to be trading below their finbox.io fair value estimate: Charles River Laboratories (NYSE:CRL), Alkermes (NasdaqGS:ALKS), Laboratory Corporation of America (NYSE:LH), ICON Public Limited (NasdaqGS:ICLR), Express Scripts (NasdaqGS:ESRX) and Alexion Pharmaceuticals (NasdaqGS:ALXN).
Charles River Laboratories is an early-stage contract research company providing drug discovery and preclinical development services worldwide. The company is expected to report earnings on Tuesday while eight valuation models conclude a fair value range of $86.11 to $118.98 and $104.37 at the midpoint.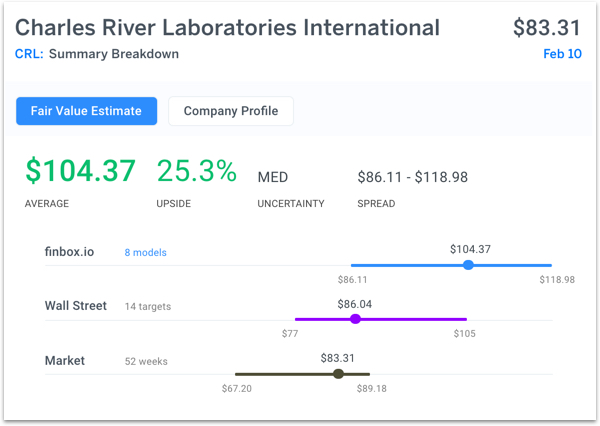 Alkermes is a biopharmaceutical company that develops pharmaceutical products designed to address unmet medical needs. The company is expected to report on Wednesday and seven separate valuation analyses imply a fair value of $68.14, slightly above Wall Street's target.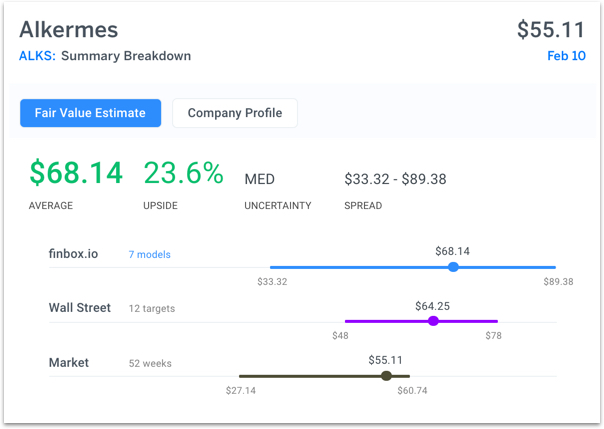 Laboratory Corporation of America operates as an independent clinical lab. Ten cash flow valuation models imply that shares are approximately 20% undervalued. The company is expected to report earnings on Thursday before the market opens.

ICON is a contract research organization that provides outsourced development services to the pharmaceutical and medical device industries. The research firm is scheduled to report earnings on Thursday and the stock is currently trading near its 52-week high. However, finbox.io fair value data implies that shares are still 18% undervalued.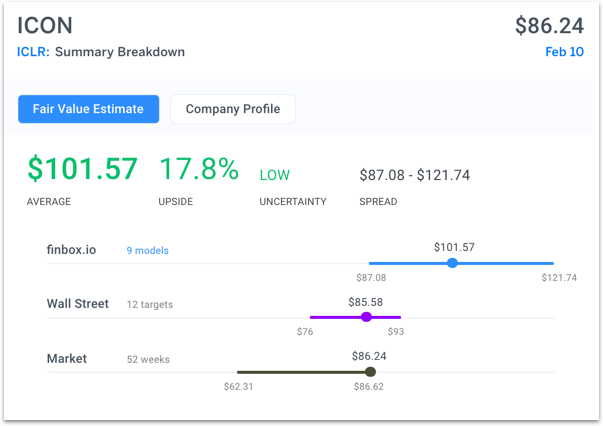 Express Scripts operates as a pharmacy benefit management company. Seven cash flow analyses imply that the company is approximately 12% undervalued prior to reporting earnings (expected Tuesday). This compares to Wall Street's price target of $81.11 which implies over 20% upside.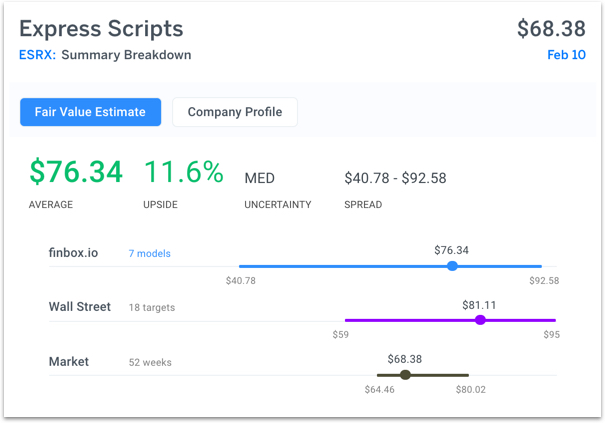 Alexion is a biopharmaceutical company that develops and commercializes life-transforming therapeutic products. The company is scheduled to report earnings on Thursday. The Wall Street consensus price target of $167.93 is above finbox.io's fair value estimate of $133.34. Both estimates imply positive margin of safety.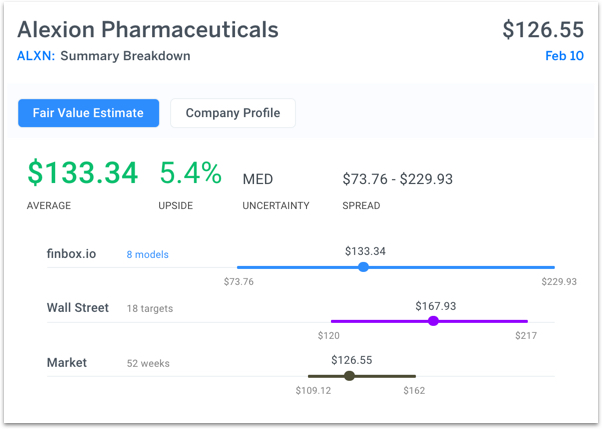 These healthcare stocks all have strong fundamentals and could easily trade higher following their earnings reports this week. Value investors may want to take a closer look.
Get Started Now!
photo credit: Tetra Financial Group