The analysis below illustrates why Orbotech (NasdaqGS: ORBK) no longer has big upside potential prior to reporting earnings next week.
---
Earnings Expected Thursday
Orbotech is expected to report earnings on Valentines Day, February 14th before the market opens. On August 3rd of last year we explained why Orbotech could trade much higher following its Q2'17 earnings announcement and the stock has since increased by 39%. Shares are now up an enormous 221% over the last three years.
So with Orbotech's stock sky-rocketing, what can investors expect when management reports earnings next Wednesday? The table below highlights the company's estimated vs actual earnings over the last nine quarters and stock price impact immediately following the announcement .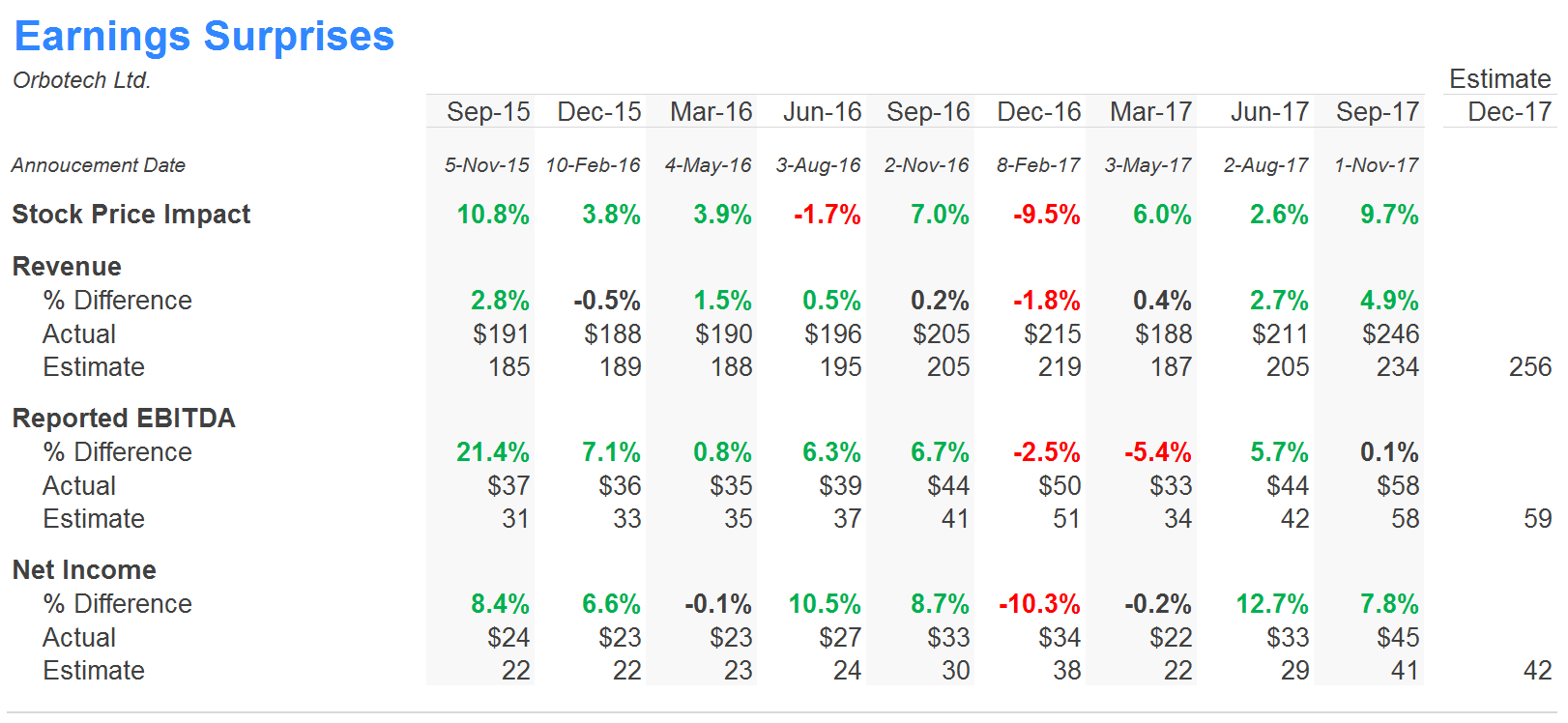 Orbotech effectively missed its sales and earnings estimate only once over the prior nine quarters and the stock took a 9.5% hit.
Wall Street is expecting Q4'17 sales of $256 million (+19.1% YoY) and net income of $42 million (+25.1% YoY). The company has only grown its top-line by more than 15% once (Q3'17) in the prior nine quarters. Could the company be leaving itself open for a miss?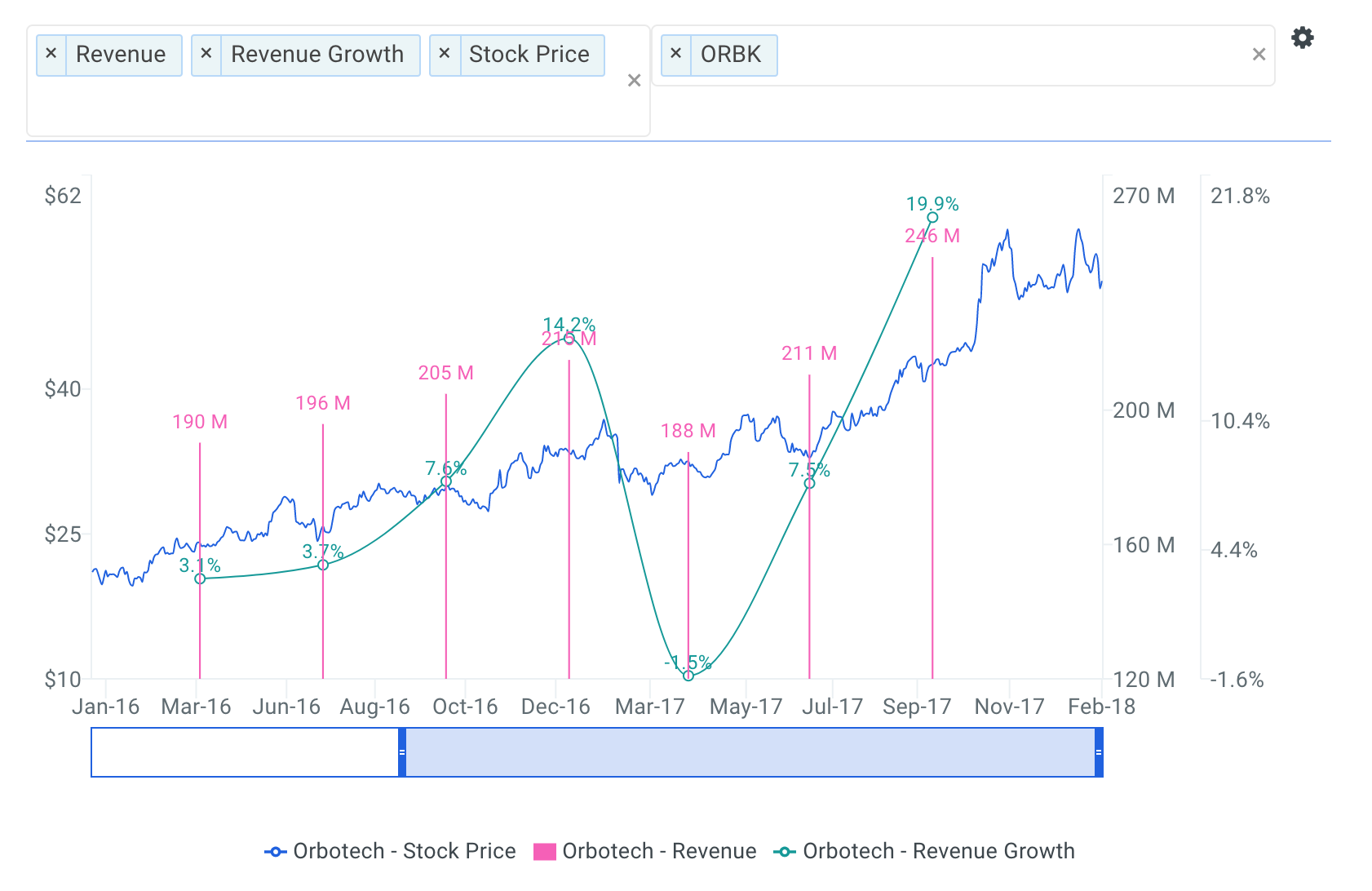 Investors should expect a fairly sizable move when the company reports on Valentine's day at the very least. On average, shares of Orbotech have increased 3.6% immediately following its earnings announcement.
However, shares now have more downside than upside after the stocks recent gains.
---
Quality Outlook Priced Into Valuation
Orbotech is based in Israel, but operates globally, selling products that enhance the yield of semiconductor manufacturing processes. These solutions help manufacturers eliminate waste and improve margins. Semiconductor manufacturers have been investing heavily in capacity over the past few years, but as that capacity comes online, prices will begin to come under pressure. These manufacturers will be looking for opportunities to increase their margins, and this is exactly why Orbotech is well positioned right now.
It's also important to note that semiconductor manufacturers have been increasing capacity as a result of memory companies transitioning their technology to more advanced nodes. The next step for these manufacturers will be to increase the efficiency processes of the newly created capacity. Again, this is where Orbotech can help.
But the company's valuation appears to have this promising outlook fully priced. This is revealed when comparing Orbotech to similar public companies such as Fabrinet (NYSE: FN), AU Optronics (NYSE: AUO), Brooks Automation (NasdaqGS: BRKS) and II-VI (NasdaqGS: IIVI).
The chart below plots each company's projected 5-year revenue and EBITDA CAGR using consensus Wall Street estimates.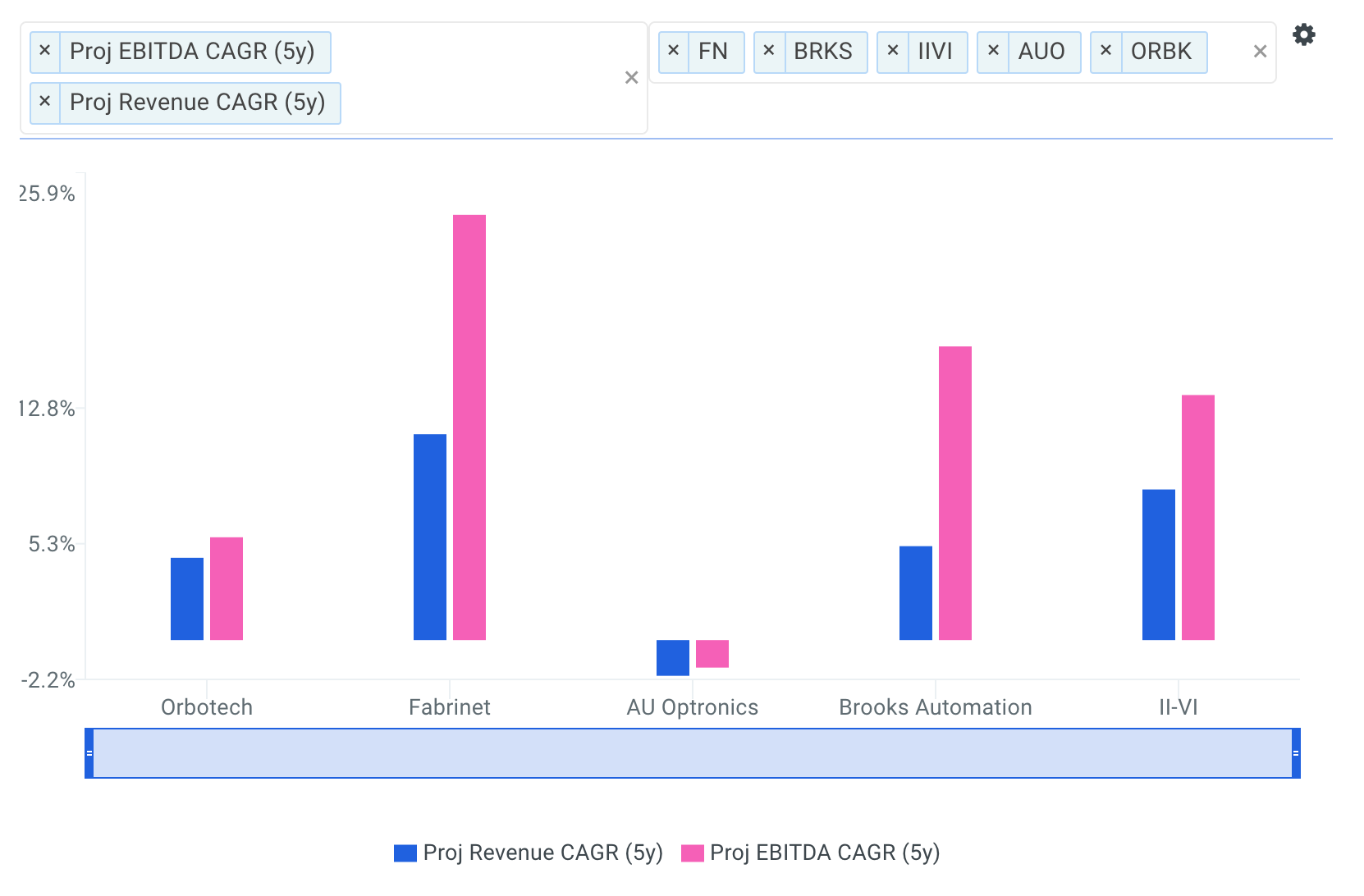 Orbotech's projected 5-year revenue CAGR of 4.6% is only above AUO (-2.0%) and below FN (11.4%), BRKS (5.2%) and IIVI (8.3%). Similarly, the company's projected 5-year EBITDA CAGR of 5.7% is only above AUO (-1.5%) and below FN (23.5%), BRKS (16.2%) and IIVI (13.6%).
Therefore, you could reasonably expect that Orbotech's valuation multiples should only trade at a premium to AU Optronics. This isn't the case as shown below.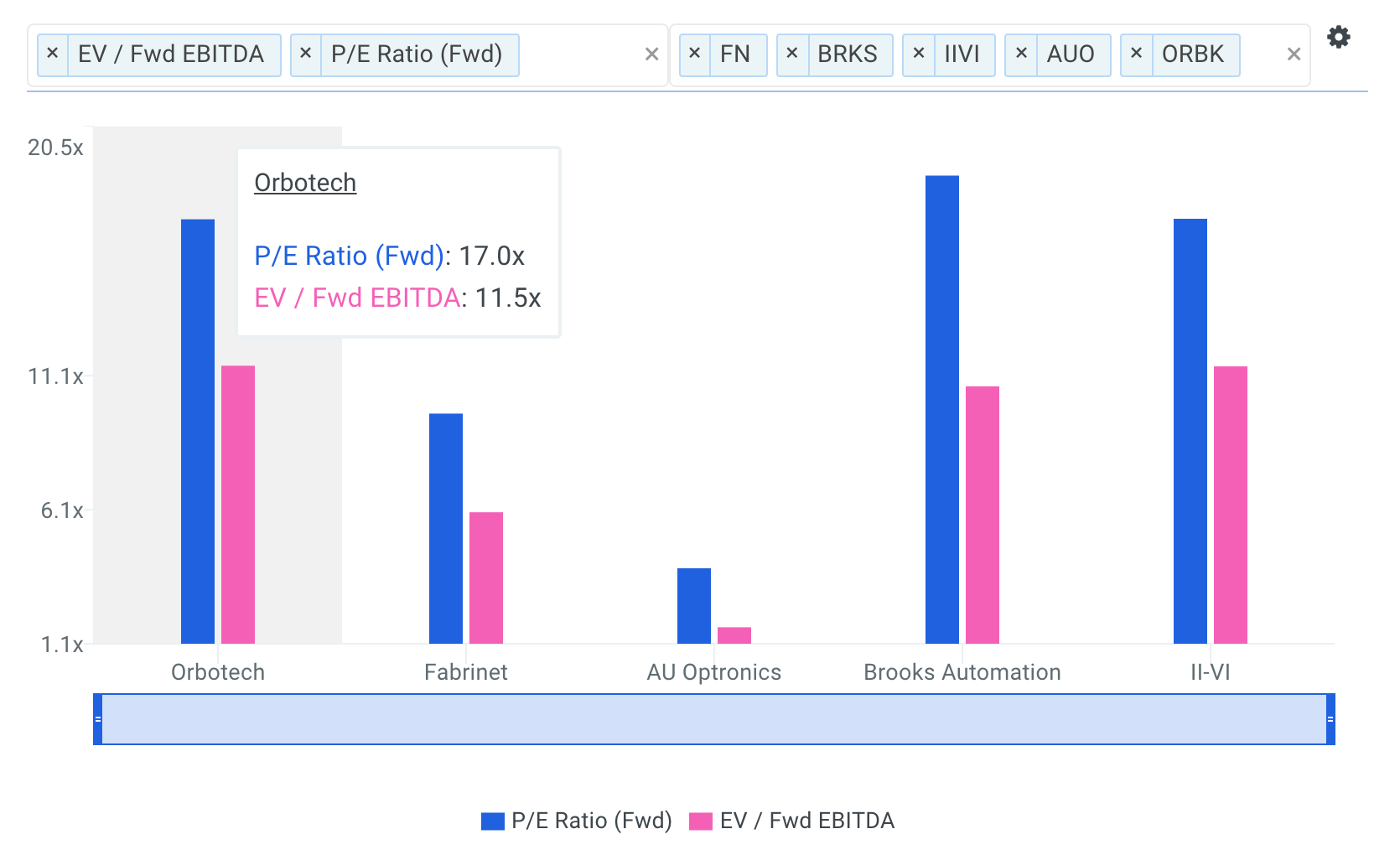 Orbotech's Forward EBITDA multiple of 11.9x is above all of the selected comparable public companies: FN (6.0x), AUO (1.8x), BRKS (10.7x) and IIVI (11.5x). Furthermore, the company's forward P/E multiple of 17.5x is above FN (9.7x), AUO (4.0x), IIVI (17.0x) and below only BRKS (18.6x).
Shares of the company also look pricey on a cash flow basis as well. Finbox.io's ten separate valuation analyses imply that there is -11.2% downside relative to its current trading price.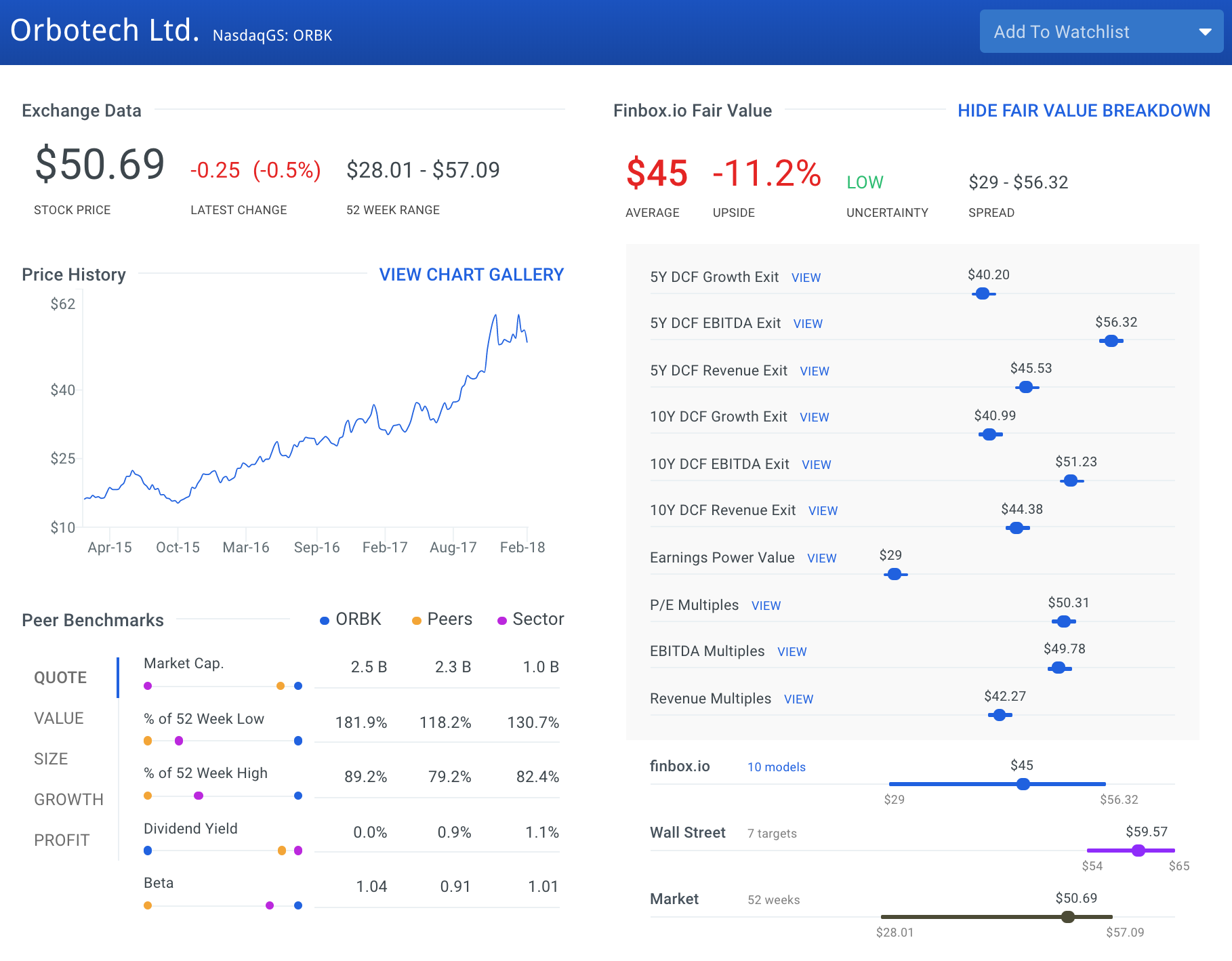 Source: finbox.io
---
Attractive Company Not Trading At An Attractive Price
Orbotech is a quality company operating in a high growth industry but the stock has appreciated to a level that leaves little margin of safety for investors. With the company expected to report earnings next week, value investors long the stock may want to take some chips off the table.
---
Author: Matt Hogan
Expertise: Valuation, financial statement analysis
Matt Hogan is a co-founder of finbox.io. His expertise is in investment decision making. Prior to finbox.io, Matt worked for an investment banking group providing fairness opinions in connection to stock acquisitions. He spent much of his time building valuation models to help clients determine an asset's fair value. He believes that these same valuation models should be used by all investors before buying or selling a stock.
His work is frequently published at InvestorPlace, Benzinga, ValueWalk, AAII, Barron's, Seeking Alpha and investing.com.
Matt can be reached at [email protected].
As of this writing, I did not hold a position in any of the aforementioned securities and this is not a buy or sell recommendation on any security mentioned.

---