Exactly a month ago I wrote an article reviewing three of Barron's stock picks that they claimed were "ready to pop". I agreed with one and lo and behold, it popped!
Below is a quick overview comparing the one month actual performance with my own initial price targets:
(chart indexed to 100)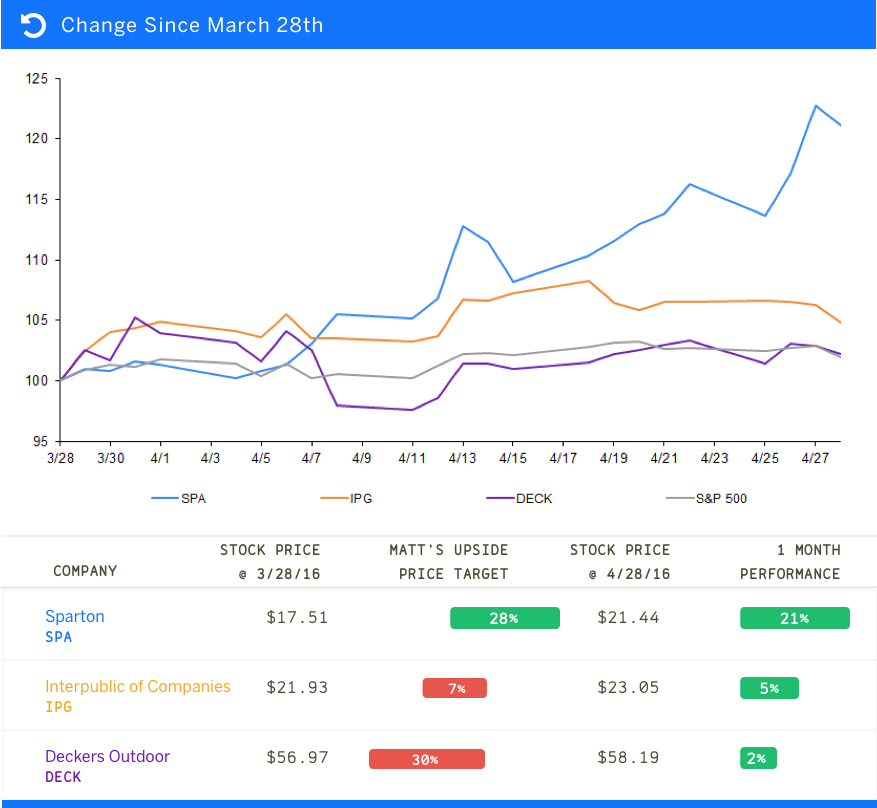 Round One: Barron's vs. Matt

I'm biased but am concluding there was no clear-cut winner after the first round. Both got SPA right and not enough time yet to determine a winner on IPG and DECK. Rules are....there are no rules.
Notes

One month is typically not an extensive enough holding period for a long-term investor but I got lucky with Sparton (SPA). Barron's hasn't published any additional coverage on SPA since March but I would expect that to change soon. The company announced yesterday they were looking for a buyer and that Wells Fargo has been hired to facilitate the sale. Might be time to take some chips off the table and enjoy that 21% gain.
Interpublic Companies (IPG) recently announced Q1 earnings which beat estimates mainly because of a strong dollar. The company beat the S&P 500 by about 3% over the month. No other real updates here. I still do not see much upside with IPG.
Again, no material updates with Deckers Outdoor (DECK). Both the S&P 500 and DECK ended the month up 2%. I'm still staying away from this one and look forward to providing another update at the 3 month mark.
---