Nathan Yates and David Wilson provide high quality research through Forward View, a leading independent equity research firm. Their recommendations are based on business fundamentals, detailed financial modeling and a deep understanding of sector trends and economic developments.
Here's their recent analysis on LinkedIN (LNKD). Enjoy!

Our Buy rating on LinkedIn (NASDAQ: LNKD) is maintained while our new price target is $139 per share, a decrease of $3 due to updated cost of capital modeling.
One-Year Stock Price Chart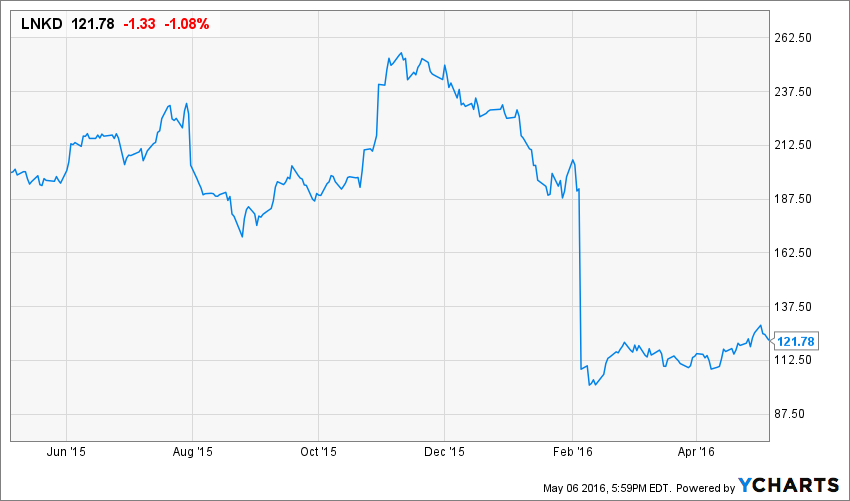 The Earnings Report - Results Summary
On April 28, 2016, LinkedIn reported 1Q earnings and revenue. Revenue came in at $861M, up 35% y/y. GAAP diluted EPS was $(0.35) vs. $(0.34) in the same period last year. Non- GAAP diluted EPS was $0.74 vs. $0.57 in the same period last year. Adjusted EBITDA came in at $222M which was 26% of revenue. Our forecast was for adjusted EPS of $0.58 and revenue of $826.6M.
Premium Subscriptions revenue grew to $149M up 22% year-over-year and contributed 17% of revenue vs 19% last year. Marketing Solutions increased 29% to $154M, or 31% on a constant currency basis. The total revenue represented from Marketing Solutions was 18% vs. 19% for last year. Talent Solutions revenue, comprised of Hiring and Learning and Development increased to $558M up 41% year-over-year, and represented 65% of sales vs. 62% last year.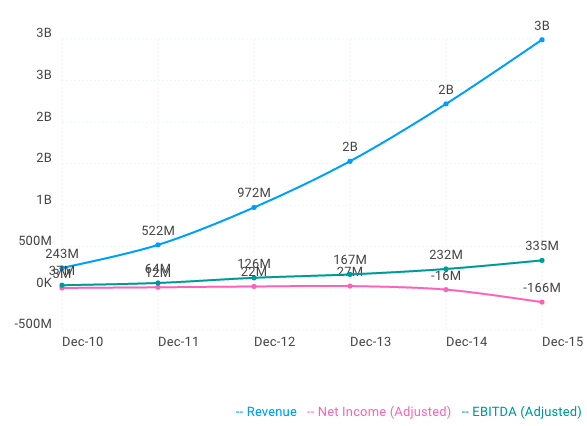 LinkedIn also gave updated guidance for the second quarter and full year guidance. For the second quarter, LinkedIn is expecting revenue to be in the range of $885M to $890M. The adjusted EBITDA is expected to range between $225M and $230M. For non-GAAP EPS, the company forecasts a range between $0.74 and $0.77.
The full year guidance for revenue is expected to range between $3.65B and $3.70B. Adjusted EBITDA is expected to range between $985M and $1.005B. Non-GAAP EPS is expected to range between $3.30 and $3.40.
Best News
The best news of the quarter for LinkedIn was the continued success of the mobile flagship experience. This quarter experienced record engagement from members who are enjoying more relevant and comprehensive feeds. The quarter also experienced viral actions increased more than 80%, daily shares were up nearly 40%, and traffic to third-party publishers grew more than 150%. LinkedIn continued to see significant growth in other core engagement metrics, such as profile edits, connections made and messages sent.
Sponsored Content was another bright spot for LinkedIn. Revenue from Sponsored Content was up 80% y/y in 1Q, and Sponsored Content now represents 56% of Marketing Solutions sales. We're currently running a Sponsored Content ad on LinkedIn for our Sporting Goods Monitor research product with positive results. These types of promotions are far more effective than traditional LinkedIn ads, and the company is successfully managing the transition from your standard online advertising technology to the Sponsored Content system.
Other social media businesses have struggled to develop more integrated advertising messages, but LinkedIn is excelling in this effort. We continue to forecast that traditional advertising will see revenue declines across the sector, and that prediction demonstrates the importance of Sponsored Content. With $71.08 spent on our latest Sponsored Content, we've seen these results: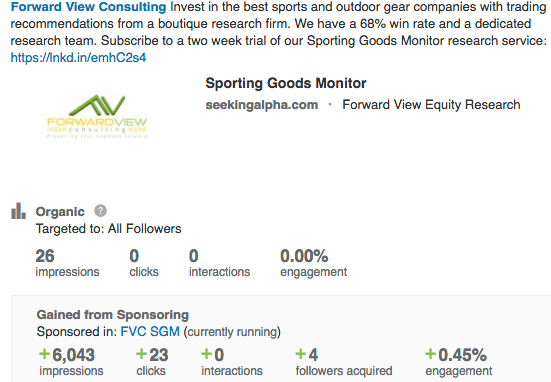 Worst News
CFO Steve Sordello noted,
"As expected, Premium Display declined approximately 30%, and now represents roughly 10% of overall Marketing Solutions. As mentioned last quarter, we are testing programmatic sales in right-rail inventory, an area we'll continue to explore throughout 2016."
As we noted above, Sponsored Content is the essential element of LinkedIn's new Marketing Solutions strategy, but the 30% decline in Premium Display ads is slightly steeper than we anticipated. Premium Display has essentially fallen off a cliff in the past year, and we honestly wouldn't be surprised if LinkedIn eliminates all Premium Display ads in a year or two. With Sponsored Content working so well on mobile devices, unlike Premium Display ads, this trend in Premium Display revenue definitely won't be reversing.
Learning & Development revenue was $55M in 1Q. This isn't a fantastic number, and we still believe that LinkedIn overpaid for Lynda. We understand the reasoning behind the acquisition, but it'll take years for the deal to pay off unless LinkedIn can leverage Lynda content more successfully than we envision. Now that Lynda has been integrated into LinkedIn, we look forward to seeing how Learning & Development content is utilized.
The Forward View
Forward View is maintaining our Buy rating on LinkedIn with our price target is being slightly reduced to $139. Our cost of capital modeling was updated for this research report, and a modestly higher WACC estimate led to the minor reduction in the target price. Overall, though, LinkedIn has regained its footing after a disappointing 4Q15. As we predicted, that lackluster earnings report was followed by a strong beat. We find it amusing how many analysts and traders bail on LinkedIn after a single poor quarter. In our opinion, each earnings miss just creates a buying opportunity for patient investors and portfolio managers. Over the long-term, this is a great business with tremendous room for growth. We suggest buying the stock, especially when everybody else is selling. Take advantage of anxiety and rash decisions to load up on LinkedIn shares. Our full quantitative analysis is presented below.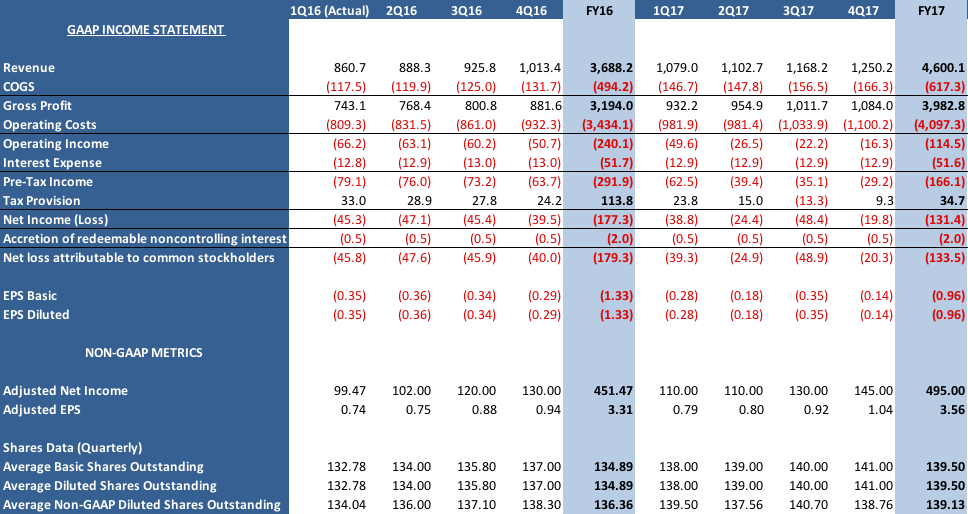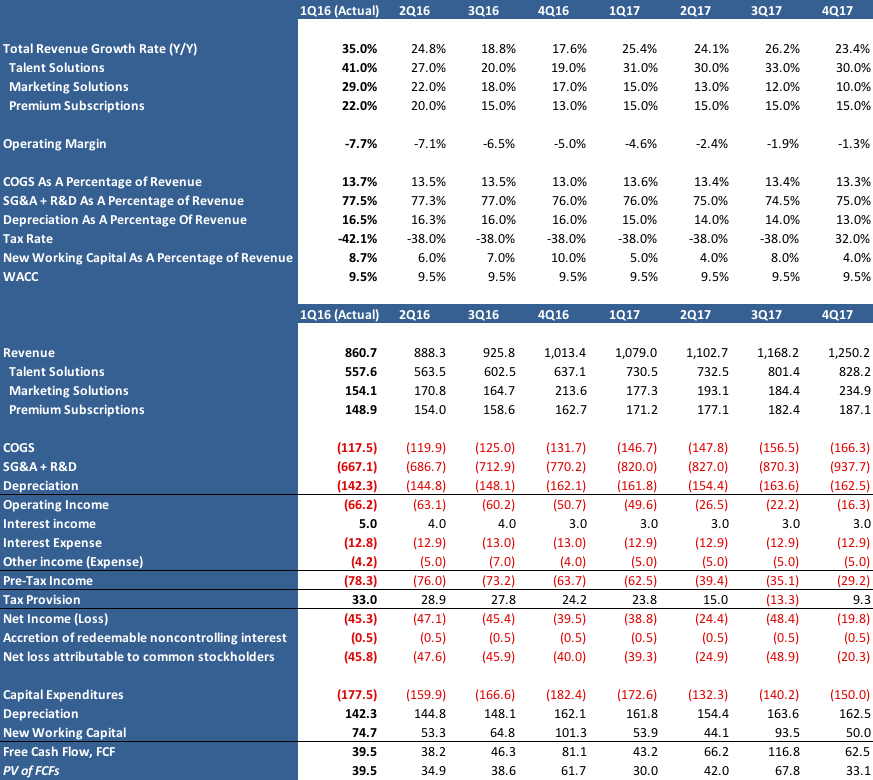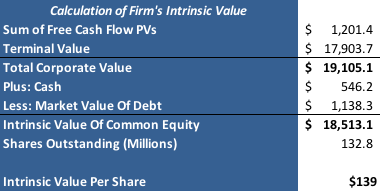 ---