Short sellers are keeping an eye on Cracker Barrel (CBRL) as the company is expected to announce earnings Wednesday, September 14th before the market opens. The stock's current short interest as a percentage of the float is extremely high standing at over 20%.
Historical Performance
Over the last five years, Cracker Barrel's shares have outperformed comparable companies: Bob Evans (BOBE), Brinker International (EAT), Cheesecake Factory (CAKE), Darden Restaurants (DRI) and Texas Roadhouse (TXRH).
This can generally be attributed to Cracker Barrel's superior financial performance as shown in the historical five-year compounded annual growth rates (CAGRs) below.
Projected Performance
Although Cracker Barrel has outperformed over the last five years, investors care more about how the company is expected to perform over the next five years. Outside of Brinker International, Cracker Barrel's revenue, EBITDA and net income is expected to grow at a lower rate than its peers.
When a company is projected to grow at a lower rate relative to its peers, its stock typically trades at a lower multiple. However, notice Cracker Barrel's EBITDA multiples trade at a premium to every comparable company (except for Texas Roadhouse).
The group's EBITDA multiples have typically traded within a tight range over the previous five years. However, Cracker Barrel and Texas Roadhouse appear to have gone rogue since the beginning of the calendar year.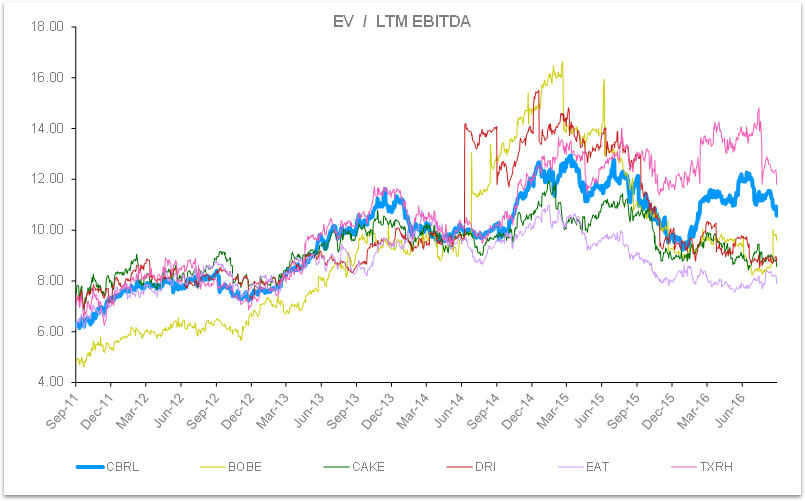 Cracker Barrel is currently trading at 10.5x EBITDA which is above almost every comparable company as well as its own 5-year average of 9.5x.
The company certainly looks to be trading off its intrinsic value on a relative basis. Cracker Barrel also looks overvalued on a discounted cash flow (DCF) basis as shown in finbox.io's fair value estimate.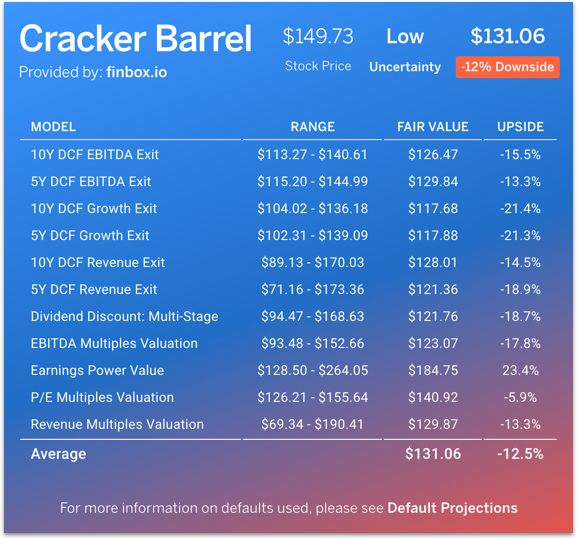 While CBRL shares have traded lower over the last three months, the stock still looks fundamentally overvalued. With a high short ratio, value investors may want to stay on the sidelines with earnings expected Wednesday morning.
Get Started Now!
Article written by Matt Hogan.
Investors are always reminded that before making any investment, you should do your own proper due diligence on any name directly or indirectly mentioned in this article.