Ford (NYSE: F) have been getting punished the last several quarters as investors have grown more cautious about the headwinds facing the auto industry. The company's stock has declined by 9.7% year-to-date compared to an 11% gain by S&P 500. However, Ford has strong fundamentals which should allow it to deliver good performance in the long run. Investors with a long term horizon should find Ford a good value bet available at a cheap price while paying a healthy dividend.
---
Recent Q2'17 Performance
Ford was able to deliver reasonable performance in this quarter despite several challenges. Its European pre-tax profits declined from $379 million in Q2'16 to $88 million this quarter with Brexit having a major impact on operations. However, while General Motors (NYSE: GM) recently exited this market, Ford is still delivering profits in this geography. For the full year, the company expects to remain profitable in Europe.
Ford Credit showed a pre-tax profit of $619 million in Q2'17 which is $219 million above last year's figure. For the full year, this segment is expected to deliver $1.5 billion in profits as the lease residual value outlook remains robust. However, Ford's best results came from its F-Series and Lincoln lineup. The F-Series grew 7%, its strongest level since 2001, as the company benefitted from an increase in average transaction price for these pickups. They increased to $45,400 per truck which is a $3,100 increase over last year's price. Lincoln also showed impressive results by generating sales of 29,000 units in U.S. which is the highest level in the last 10 years.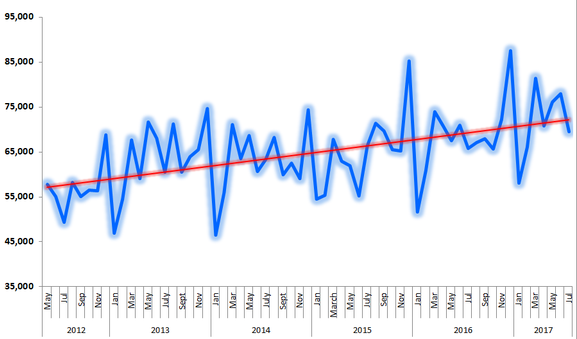 Fig: Growth in sales of F-Series in the past five years
[The latest July figures](https://media.ford.com/content/dam/fordmedia/North America/US/2017/08/01/july-17-sales.pdf) also show a better sales mix for Ford. The company generates higher margins on its SUVs and trucks compared to its fleet sales. In July the fleet sales declined by 26% as delivery to major customers were delayed. However, Ford's management has stated that these deliveries will be made in the next few months. On the other hand, Ford SUV sales increased by 2.2% in July compared to last year. Ford Escape grew by 5.5%, Edge grew by 6.1% and Explorer grew by 12.9%. Although sales of its Expedition were down, they are likely to pick up as the new model is released this fall.
U.S. is close to peak auto and there are warnings about a decline in total sales for all auto majors. However, if Ford is able to show reasonable growth within its profitable SUV and truck segment and also increase the ticket price, it should certainly help the company in posting profit growth for the next several quarters. Ideally, enough time for its new iniatives to set in.
---
Ford's New Initiatives
It's widely known that the auto industry is changing due to the growing popularity of ride sharing services, growth in electric vehicles and a focus on autonomous driving. As a result, Ford has taken aggressive steps to transform the organization for these new trends. The biggest change made by Ford was in replacing CEO Mark Fields with Jim Hackett who was previously the chairman of its Smart Mobility division.
Ford has a 2021 autonomous vehicle plan and is spending vast sums to reach this goal. In February it invested $1 billion in autonomous tech firm Argo AI. Although other tech firms like Alphabet (NasdaqGS: GOOG), Apple (NasdaqGS: AAPL) and Uber are also trying to build autonomous driving capabilities, they will still likely need to rely on traditional manufacturers like Ford for technology integration and making the cars safer.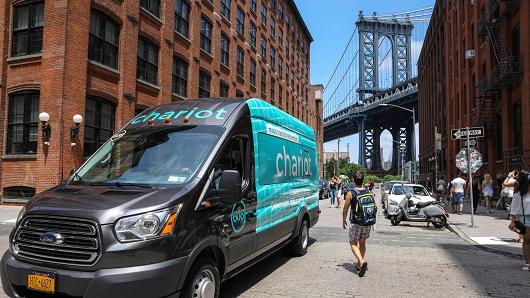 Figure: Ford starting Chariot services in NYC
Ford also acquired a ride-sharing startup called Chariot in 2016. Ford has now expanded Chariot's services to four cities including New York City. This acquisition will provide a more hands-on experience for Ford in the changing ride sharing ecosystem. Ford is also jumping on the EV bandwagon by building an all-electric vehicle with a range of over 300 miles. It aims to bring this car to the market in 2019 or 2020. Although Ford is late to the party, it seems that the auto company is finally finding its way.
---
Attractive Dividend Yield and Valuation
Ford's dividend yield currently stands at a healthy 5.5%. Furthermore, total dividends paid are well covered by operating income. This should help provide moderate dividend growth to investors for the next few years. The stock is also trading at a discount to intrinsic as a result of the current headwinds facing the company. Six separate valuation models using consensus Wall Street estimates imply that shares are more than 15% undervalued.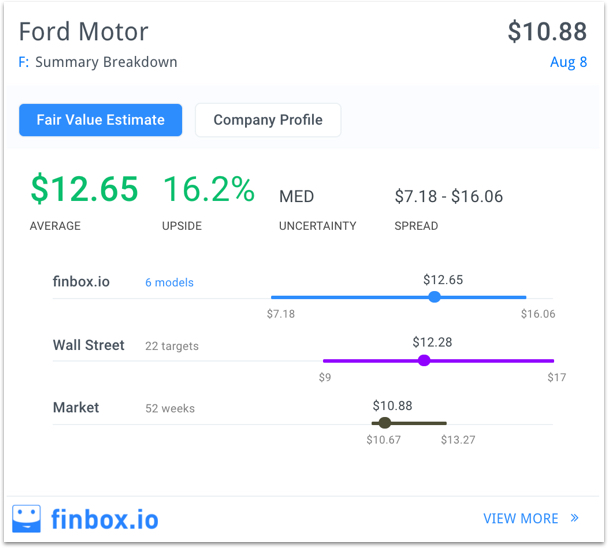 At the current price, Ford's stock has 15% upside potential. Investors can also earn a healthy dividend while the company adjusts itself to the new auto trends. It sells some of the highest margin auto brands like the F-series pickup. As it has shown in the recent quarters that even with a modest decline in sales, it is able to deliver profit growth in many categories. The chart below illustrates Ford's superior margins vs peers: General Motors, Tesla (NasdaqGS: TSLA), Fiat Chrysler (NYSE: FCAU), Honda Motor (NYSE: HMC) and Volkswagen (OTC: VLKAY).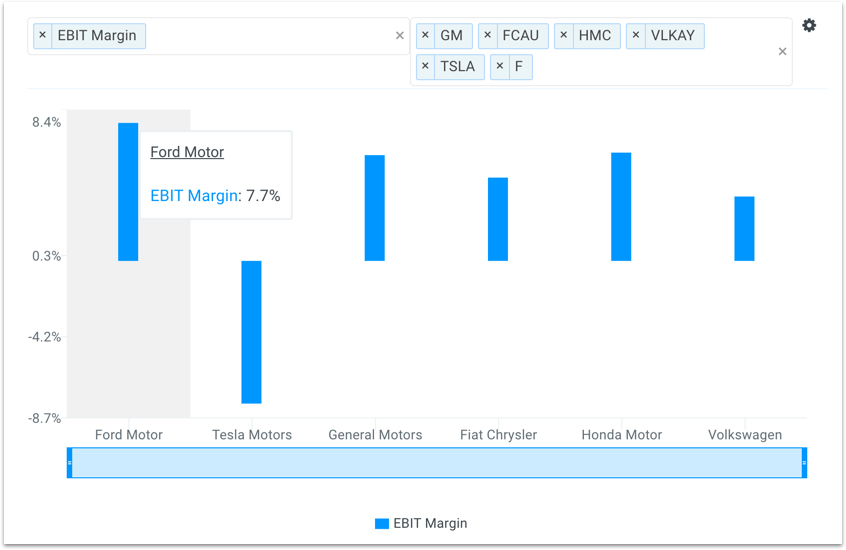 There are some challenges in front of the company but new management is aggressively pursuing new technologies which should help the company deliver in the long run. For investors looking for a high yield stock with nice upside potential, Ford is a quality choice.
---
Conclusion: An Ideal Value Bet
Ford has a strong lineup which can continue to deliver leading margins. The new initiatives will also help in positioning the company for long term growth. At the same time, Ford has a policy of returning significant cash to investors with a current dividend yield of 5.5% (near its all-time high). With such a rich history in the auto industry, Ford is a good value bet for long term investors who can ride out the cyclical ups and downs of this sector.
---
Note this is not a buy or sell recommendation on any company mentioned.
Photo Credit: ReviewOnline
---