Stocks At Record Highs... Again
For the 56th time since the 2016 presidential election, the Dow Jones industrial average closed at a record high on Wednesday, September 20th. The market continues to rise which has surprised many as President Trump has failed to enact promised legislation such as corporate tax cuts. The S&P 500 also closed at a record high on Wednesday.
While stocks reached new highs, the U.S. central bank announced it will begin rolling off its $4.5 trillion balance sheet in October. This illustrates how the Fed believes that the U.S. economy has emerged safely from the Great Recession that devastated the economy a decade ago. However, analysts are now warning investors with increasing frequency of a potential pullback as stock valuations reach new heights.
---
A Pullback On The Horizon?
In this recent MarketWatch article, Thomas H. Kee Jr. warns that without the central bank's "help" (i.e. quantitative easing), the S&P 500 would not be trading at 24x earnings which is where it is today. Historically, the S&P 500 has traded closer to 14.5x. He argues that markets become more and more overvalued when the Fed continuously pumps it with liquidity.
CNBC just reported that Brad McMillan, who counsels independent financial advisors representing $114 billion in assets under management, said that the market "would have to drop somewhere between 30 and 40 percent to get to fair value, based on historical standards." Even Barron's went on record in early September stating how the eight-year bull market will end.
Timing a widespread pullback is near impossible. However, staying clear of specific securities that are overvalued based on their underlying earnings and fundamentals is not. Finbox.io's fair value estimates are derived from pre-built valuation analyses and make this process easy. Using this stock screen, we found five stocks expected to report earnings next week (9/25-9/29) and have 20% or more downside.
---
Five Overvalued Stocks With Earnings Expected This Week
While stock valuations near record highs, value investors may want to stay clear of the following five names before they announce earnings this week: Vail Resorts (NYSE: MTN), IHS Markit (NasdaqGS: INFO), Cintas Corp (NasdaqGS: CTAS), McCormick & Company (NYSE: MKC) and Actuant Corp (NYSE: ATU).
Vail Resorts operates mountain resorts and urban ski areas in the United States and is expected to report earnings on Thursday, September 28th before the market open. The company's shares last traded at $228.98 as of Wednesday, September 20th, approximately 99.1% of its 52-week high. While the stock is up 43% year-to-date, finbox.io's eleven valuation analyses imply that shares are 33.8% overvalued. Investors may want to take some chips off the table here.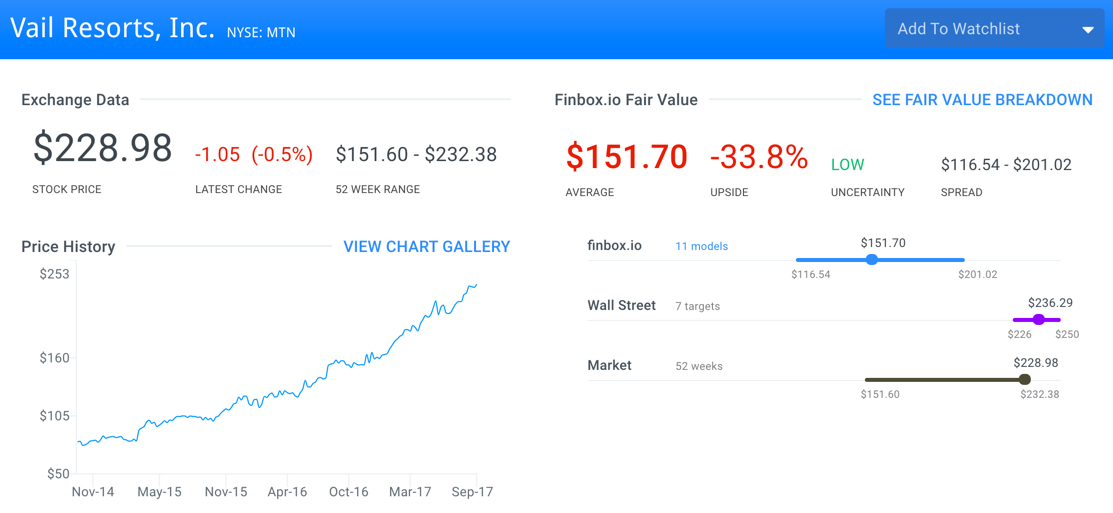 source: finbox.io
IHS Markit provides critical information and analytics solutions for various industries and markets that drive economies worldwide. The company is expected to report earnings on Tuesday, September 26th before the market open and shares have also performed well year-to-date (+35%). Although finbox.io's nine cash flow models offer a wide fair value range ($24.14 - $51.27), the average estimate of $32.41 implies a 32.4% downside. Again, may be time to take profits here.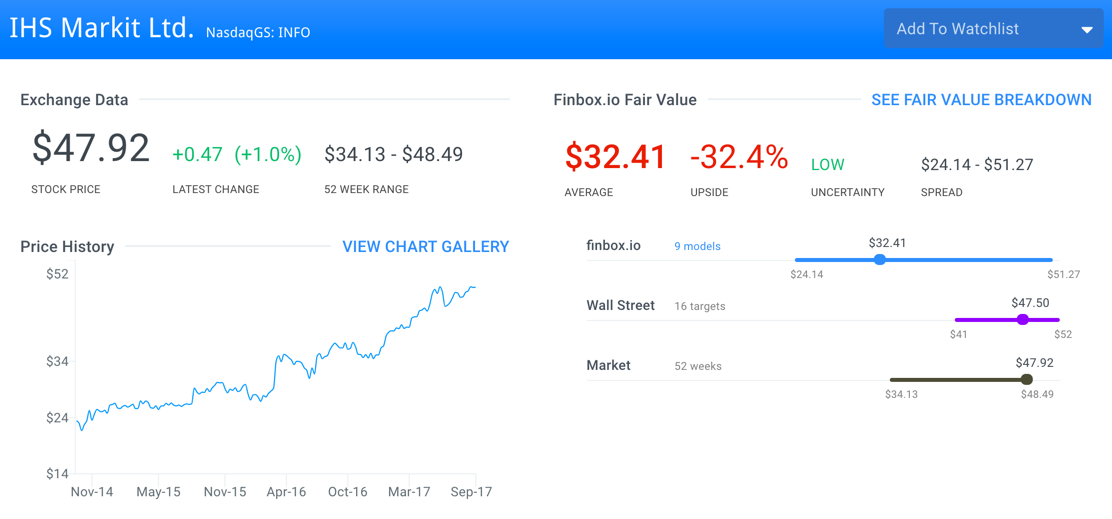 source: finbox.io
Cintas provides corporate identity uniforms and related business services worldwide and is expected to announce earnings Tuesday, September 26th after the market close. Our fair value estimate for the company is $104.96, implying the stock is trading around 23% above its intrinsic value based on its latest stock price of $136.52.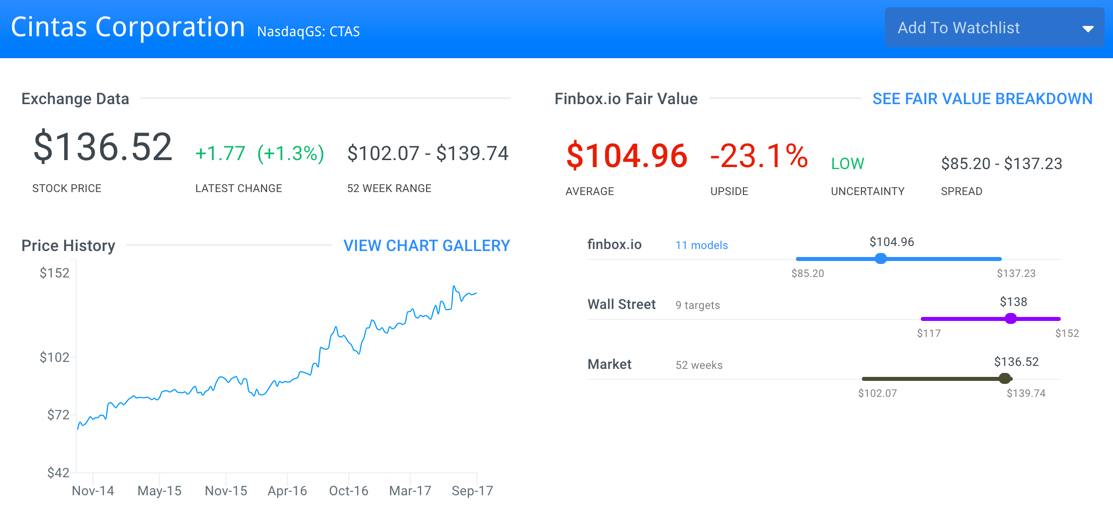 source: finbox.io
McCormick & Company manufactures and distributes spices, seasoning mixes, condiments, and other flavorful products to the food industry. The company is expected to report earnings on Thursday, September 28th before the market open. The stock has appreciated 52% over the last three years and is now trading at a 20% premium. McCormick & Company's forward EBITDA multiple currently trades at 16.9x which is well above all of its selected peers including Campbell Soup's (NYSE: CPB) 9.7x, Dean Foods' (NYSE: DF) 5.3x, Hershey's (NYSE: HSY) 14.1x and J.M. Smucker's (NYSE: SJM) 10.6x. The company's fundamentals appear stretched.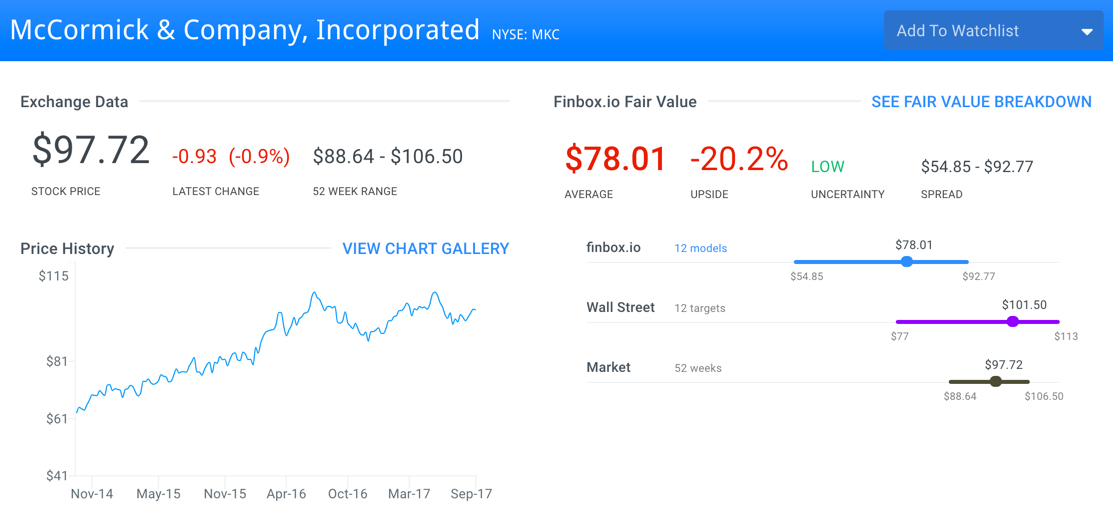 source: finbox.io
Actuant is expected to report earnings on Wednesday, September 27th before the market open. The company designs, manufactures, and distributes a range of industrial products and systems worldwide. The stock last traded at $26.55 as of Wednesday, down 19% over the last three years. Shares still have a further 20% downside calculated from twelve separate valuation models.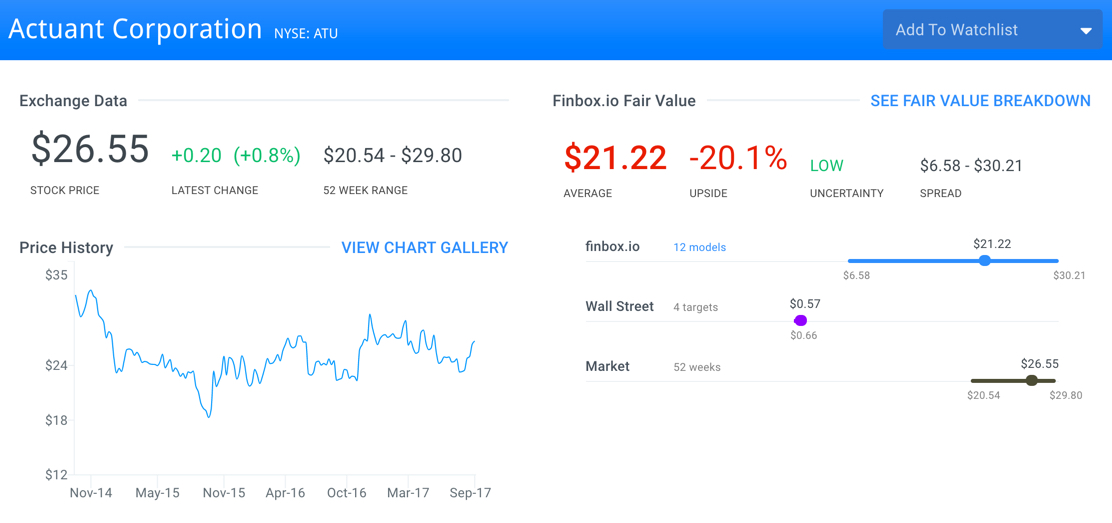 source: finbox.io
A negative earnings report can often be the catalyst that sends overvalued stocks tumbling. Value investors may want to revisit their positions on the names mentioned above. All five stocks have sky-high valuations relative to their underlying earnings.
---
Note this is not a buy or sell recommendation on any company mentioned.
Photo Credit: Business Insider
---