It has been widely reported that T-Mobile US, Inc. (NasdaqGS:TMUS) had been in merger talks with Sprint Corporation (NYSE:S), a competitor that is majority owned by Softbank. However, these talks are now on hold as Sprint is negotiating potential deals with two of the largest cable companies in the United States; Comcast (NasdaqGS:CMCSA) and Charter Communications (NasdaqGS:CHTR). These cable companies are under pressure having lost subscribers due to services like Netflix (NasdaqGS:NFLX), which recently blew away its second quarter growth estimates.
Investors long shares of T-Mobile have been rewarded as the stock is up over 35% within the last year. But shares have lost more than 10% of their value since their June high as merger talks with Sprint have slowed.
While the market speculates over a potential merger between T-Mobile and Sprint, or a tie up between Sprint and both Charter and Comcast, investors may be missing the obvious opportunity. T-Mobile is a great asset that generates strong cash flows. Regardless of what happens with Sprint, there is value in owning TMUS shares on a standalone basis.
---
Strong Cash Flows Illustrate Upside Potential
Finbox.io's intrinsic value estimate of $73.01 implies that the stock is nearly 20% undervalued. The estimate is calculated by applying Wall Street projections to seven separate valuation analyses.
Notice how the four discounted cash flow models project significant upside while those based on comparable companies multiples show downside. However, this may be misleading given that T-Mobile's growth profile is not highly comparable with other traditional mobile service providers.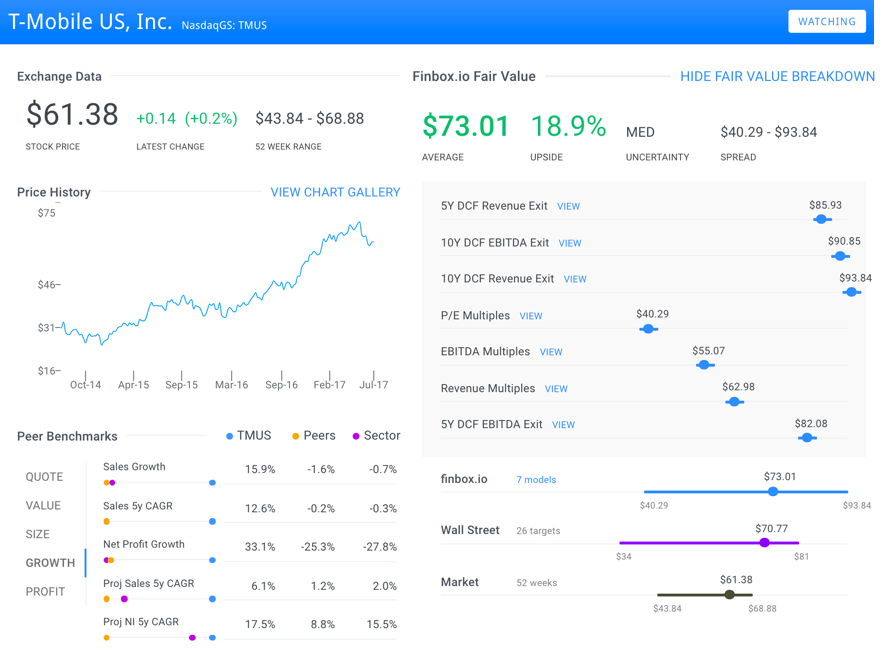 ---
T-Mobile In Comparison To Peers
T-Mobile is a significant player in the US mobile telecommunications space. It is the third largest by subscribers, with 72 million customers as of early 2017. When analysts compare T-Mobile, they often compare them to the likes of Sprint, Verizon Communications (NYSE:VZ) and AT&T Inc. (NYSE:T). This makes sense considering they offer very similar services but what is not similar is their underlying growth profiles as illustrated below.
T-Mobile's sales growth has outperformed and is expected to continue outperforming its peer group. The company's 5yr revenue CAGR of 12.6% is above Sprint (-0.2%), Verizon (2.6%) and AT&T (5.3%). And when comparing Wall Street's consensus forecast for each company, T-Mobile's projected 5yr revenue CAGR of 6.1% is also above Sprint (1.1%), Verizon (0.7%) and AT&T (1.5%).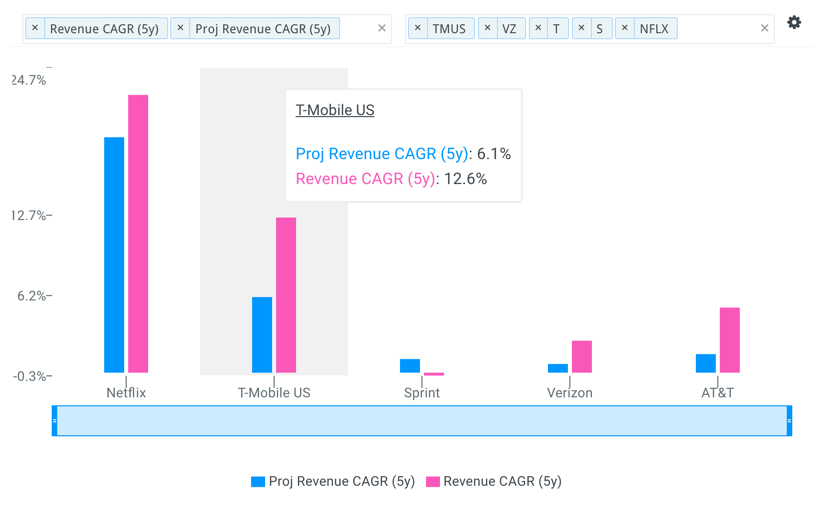 T-Mobile has grown its top line by more than 2.0x its closest peer and is expected to grow by more than 4.0x its closest peer going forward. One could argue that T-Mobile's growth profile is much more similar to high flying Netflix whose revenue growth has outperformed T-Mobile's by only 2.0x to 3.0x.
Furthermore, the company's EBITDA growth has outperformed all peers (including Netflix) over the last 3 years.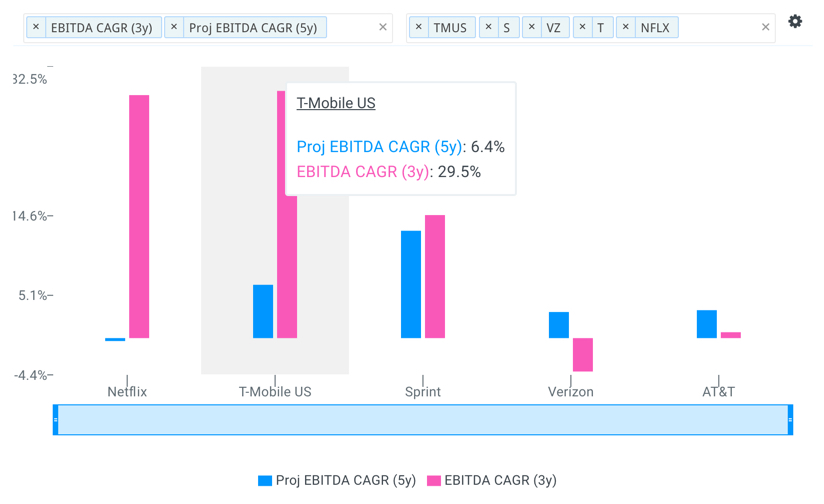 The superior performance helps explain why T-Mobile's forward EBITDA multiples trade at a 1.0x premium to its traditional peer group: Sprint, Verizon and AT&T. However, it does not explain why the EBITDA multiple of Netflix trades at a 10.0x premium to T-Mobile.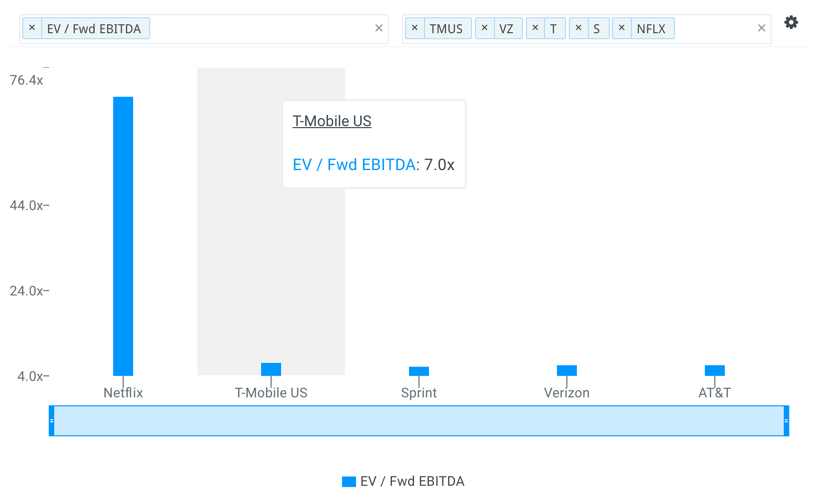 The company's profits are actually expected to grow at a faster pace than the stock market's darling: Netflix. As a result, one could argue that T-Mobile's multiples should be trading closer to that of Netflix. Given the company's high growth profile, TMUS shares appear significantly undervalued on a relative basis as well as a future cash flow basis.
---
Here's What Should Excite Investors
T-Mobile recently increased the price of its most popular unlimited data plan by 100%. This is a positive sign as it relates to the company's belief in its pricing power.

Online content is moving rapidly to mobile which makes T-Mobile the cheapest stock in one of the most exciting sectors in the market. The migration to mobile will act as an underpinning to the sector for years to come.

T-Mobile is the only mobile network that was built specifically for unlimited data plans.

The company has managed to add 1 million new subscribers per quarter for the past four years.

The share price has fallen 14% from its June high on uncertainty over a Sprint deal.
T-Mobile is an undervalued asset that value investors may want to take a closer look at before the mobile services provider reports earnings on Wednesday after the market closes. Whether or not a deal progresses with Sprint, the company looks extremely attractive on a future cash flow as well as on a relative basis.
---
Note this is not a buy or sell recommendation on any company mentioned.
Photo Credit: T-Mobile
---