Delta Air Lines (NYSE: DAL) appears to have fundamental strengths that are not currently reflected in its stock price. In the second half of 2016, all legacy carriers including Delta, American Airlines (NASDAQ: AAL), United Continental (NYSE: UAL) and Southwest Airlines (NYSE: LUV) saw a rapid increase in their stock valuations as market sentiment improved for the entire sector. Even Warren Buffett, who has been a long time skeptic of the sector, ended up investing billions in major airlines. However, these legacy carriers have been on a roller coaster ride year-to-date and have underperformed the broader S&P 500 index.
---
Fundamental Strengths of Delta Air Lines
Delta Air Lines has a strong management team that has increased their focus on profitability in the last few years. This has allowed the company to post healthy margins while keeping its debt at a reasonable level. While other carriers like American Airlines have gone on an aircraft buying binge, DAL has been much more conservative in its capacity expansion.
Within the airline industry, one of the most important metrics is passenger revenue per available seat mile (PRASM). Delta has started posting quality improvements in this metric. The company showed 3.5% PRASM growth in May, 2.5% gain in June and 2.7% growth in July compared to the year ago period. Management has also forecasted 2.5%-4.5% growth in PRASM in Q3. On the other hand, rival United has forecast -1% to 1% PRASM growth due to higher competition on its most profitable routes.
Healthy operating margins act as a long-term competitive advantage within the airline industry. Superior margins vs peers help an airline adjust more easily to new competitors and a changing pricing environment. In the past few quarters, Delta and Southwest have consistently outperformed other legacy carriers in this metric.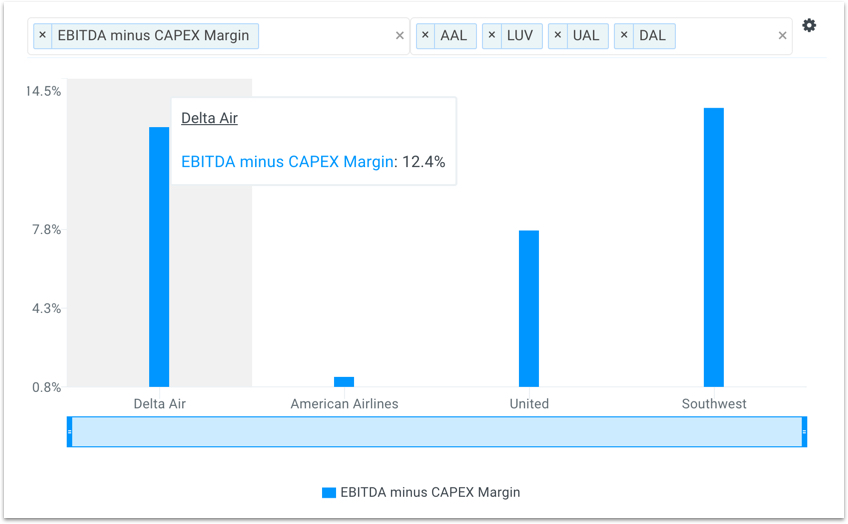 EBITDA less capital expenditures is a measure of free cash flow (FCF) and is useful for comparing companies that are "CapEx" intensive such as airlines. Delta and Southwest clearly have superior EBITDA less CapEx margins to American Airlines and United.
---
Dealing With Gulf State Airlines
In the past few years, one of the biggest threats for American carriers has been the growth of Gulf state airlines. The chief offenders among them are Qatar, Emirates and Etihad airlines. American and European carriers have alleged that these Gulf state carriers are getting enormous subsidies from their government who want to transition their economy's dependence away from oil. It is alleged that these subsidies have allowed Gulf carriers to provide luxurious services at cheap rates and expand at a rapid pace on international routes.
In short, Delta has suffered due to the growth of these gulf state carriers. However, Delta has also started building a strong defense against these carriers through partnerships with other international airlines. It recently extended a partnership with Air France-KLM through an investment of $411 million for a 10% equity stake. It has also committed to increasing transatlantic joint ventures with Virgin Atlantic, Air France, KLM, and Alitalia. Delta works closely with Air France to manage fares and schedules on US-Europe flights.
Besides strengthening the partnership with outside European carriers, Delta is also ramping up its media initiatives to make a case against gulf state carriers. It has recently launched its "Our Future Our Fight" campaign where employees show the impact that unfair competition has on the company and themselves. The main argument of the campaign is that unfair expansion of gulf carriers hurts American jobs, American national security, and the wider economy. It is stated that every international route that Delta surrenders leads to a loss of 1,500 American jobs. This campaign may bring support from both sides of the political spectrum which could limit the ability of gulf carriers to undercut American carriers going forward.
---
Attractive Valuation
Delta is trading at a reasonable valuation relative to its peers considering the better operational and financial metrics it boasts.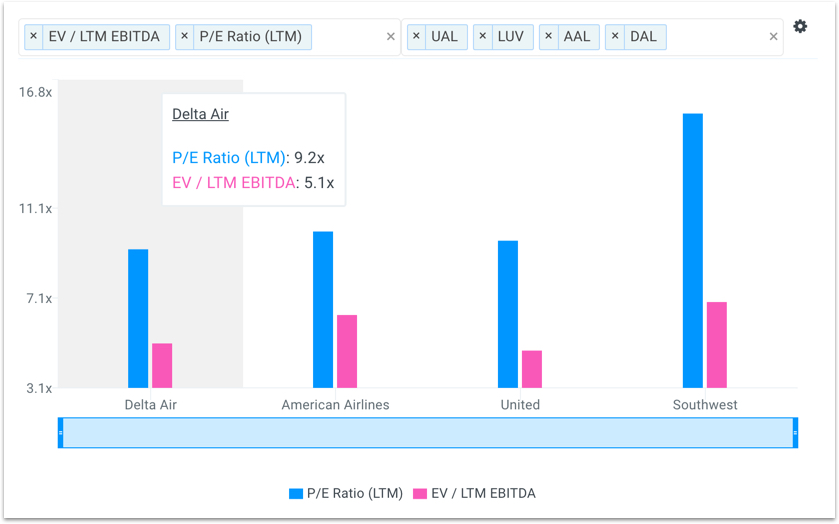 source: finbox.io
Delta has also increased its dividend to $0.305 per share from $0.203 per share lifting the dividend yield to 2.6%. In comparison, American Airlines offers a mere 0.88% yield, Southwest provides a 0.93% yield and United does not currently pay a dividend. In terms of long-term debt, Delta and Southwest again look most attractive having a debt to total capital ratio of 20.8% and 11.8%, respectively. While Delta has limited its capital investments over the last few years, carriers like American Airlines have invested billions of dollars in new airplanes. Delta's low debt level should allow it to selectively invest in future growth options and also reduces the total risk to the stock / dividend.
Furthermore, Delta shares currently have over 30% upside according to finbox.io's DCF model which applies the consensus forecast from Wall Street analysts.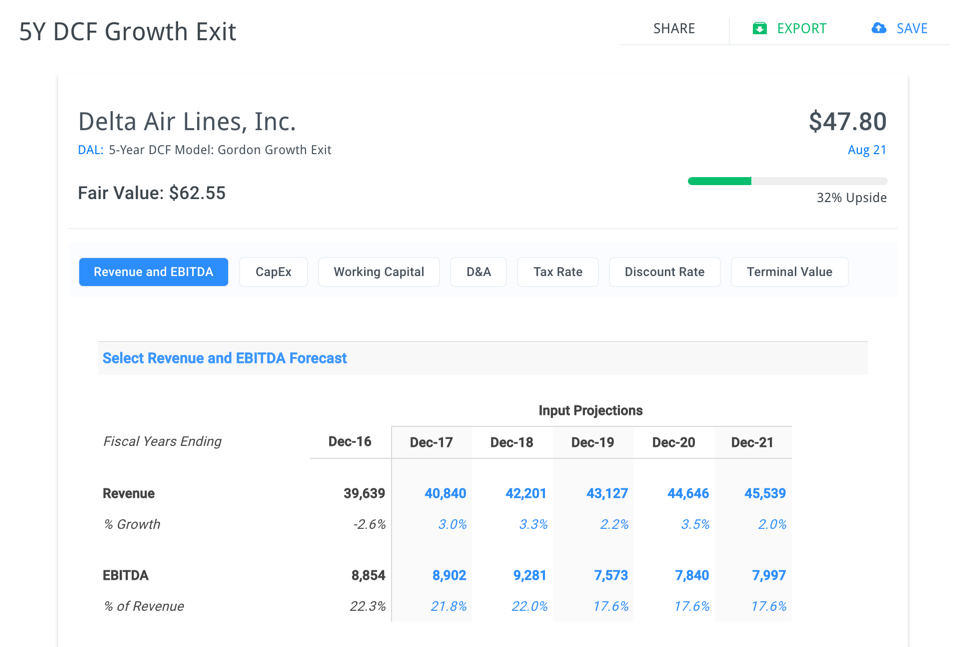 source: finbox.io
Even with low single-digit revenue growth and declining EBITDA margins, Delta offers value investors a healthy margin of safety.
---
Conclusion: Delta Offers Long-Term Upside
Long-term investors who want to invest in a legacy carrier should find a good option in Delta Air Lines. Operationally, the airline is a much stronger carrier than either United or American. It has a strong capital structure and provides a healthy dividend yield to investors. At the same time, the stock trades at a discounted valuation to other carriers. Finbox.io calculates that Delta has over 30% upside relative to its current trading price offering investors a quality margin of safety.
---
Note this is not a buy or sell recommendation on any company mentioned.
Photo Credit: Google
---