International Business Machines (NYSE:IBM) is expected to report earnings on Monday July 18th after the market closes. Shares of IBM hit a 5-year bottom of $117.85 on February 11 before jumping to over $130 after news that IBM's Watson Health unit was buying Truven Health Analytics for $2.6 billion. Investors long the stock will need management to announce more positive developments if they want to see shares prices continue their upward trend.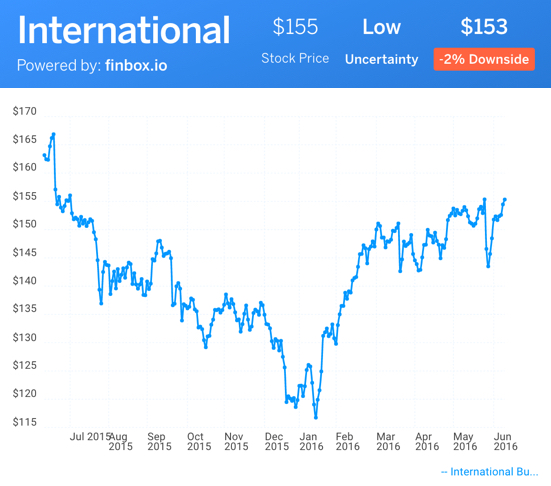 [*chart*](https://finbox.io/IBM/charts/stock-price)
IBM shareholders welcomed the Truven acquisition even though the company paid a hefty 35x EBITDA multiple. Morgan Stanley followed the acquisition announcement by upgrading the stock to "Overweight" and set a price target of $140. Now with the stock trading above $155, investors should be cautious ahead of earnings as the company's financial performance has been anything but stellar. IBM's Q1'16 EBITDA of $3,298 million fell to its lowest level since Q1'03 - yes 2003!
The chart below highlights IBM's earnings surprises over the last four quarters.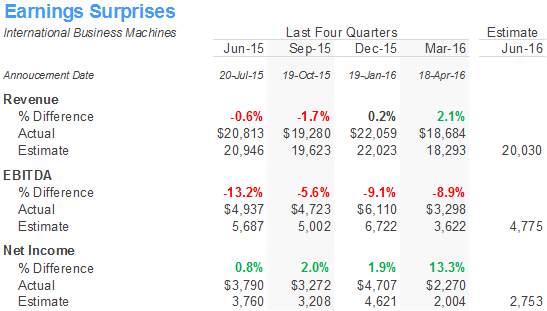 It's not wise to rely solely on Net Income because this metric can easily be distorted. For example, IBM's Q1'16 net income benefited from a -95% tax rate due to a tax refund - not indicative of the company's true underlying earnings. Now notice the lackluster EBITDA performance which is a good proxy for calculating the true underlying cash flows of a company.
Wall Street expects IBM's Q2'16 revenues to reach just over $20 billion (-4% growth YoY) and EBITDA to be $4,775 million (-3% growth YoY). Using the Street's consensus forecast into various valuation models (shown in the image below) highlights a fair value estimate of $153 per share implying little margin of safety.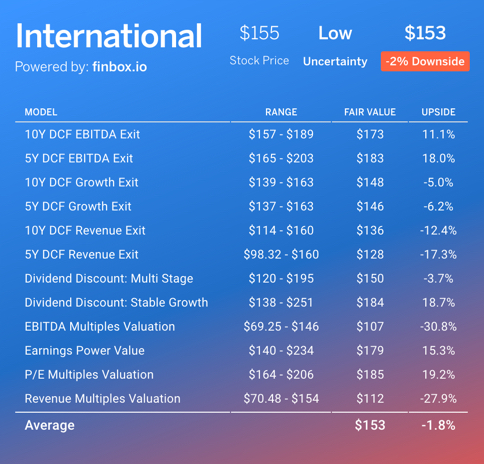 Shares of IBM have rebounded from its 5-year February low even as the company reported its worst quarterly EBITDA figure since 2003. The recent financial woes will need to change quickly for prices to remain at current levels. Look to the earnings announcement on July 18th to provide a signal.
Get Started Now!
This article was written by Matt Hogan.
---