Similar to an easter egg hunt, an investor's stock hunt can turn disastrous!#####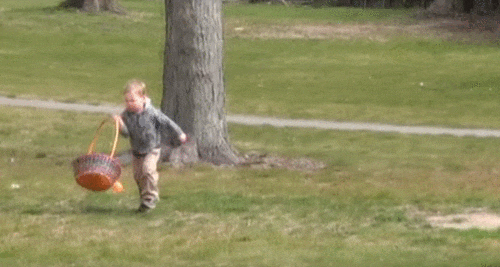 Sorry I just had to include that gif after an Easter Sunday. But seriously, finding stocks with huge upside potential can end disastrously if you don't know what you're doing. There's a disgusting amount of information available on the internet which can make you feel overwhelmed. Many investors simply follow advice from financial publications deemed credible (Barron's, Kiplinger's, Forbes etc.) without doing their own analysis. Some even choose to blindly copy traders at sites like eToro.
Sometimes it pays off but sometimes it doesn't. It's never smart to rely on someone else's analysis when trading in the stock market! Otherwise you might find yourself stepping on an egg...
I'm not saying you shouldn't be looking for new investment ideas or gathering support from equity research sites like Seeking Alpha. I'm personally a big fan of Barron's and think they do a great job of providing quality investment advice. However, I sometime agree with the advice and sometimes I don't. Below is quick review on the fundamentals of Barron's top stock picks from last week (3/20-3/27) to illustrate what I mean. These picks include Sparton (NYSE:SPA), Deckers Outdoor (NYSE:DECK) and Interpublic of Companies (NYSE:IPG).
David says that "Sparton (market value of $170 million) is one of only two global makers of sonobuoys, which are underwater listening devices used to detect the presence of submarines. It's a high-margin, high-quality business, and most sales are contracted to the U.S. Navy. The business is a true gem, whose value doesn't appear reflected in the current stock price."

What the fundamentals say:
David may not be far off. The DCF model loaded with Wall Street consensus projections highlights an upside of about 25%. If Sparton can beat these expectations, a 40% rise is reasonable.
"investors who have ridden the shares would be wise to take profits now. While Deckers' new boots may take hold and spark a new surge in UGG sales, there's more risk in the stock today than when we wrote about it in January."
What the fundamentals say:
Salzman doesn't like that investors won't know if the new boots are selling until this coming fall. The Street seems suspicious as well. A quick look at the DCF below supports the Barron's author's claim. Might be time to get out!
Hough notes that IPG "won new business from Coca-Cola (KO), Johnson & Johnson (JNJ), and CVS Health (CVS) was named media agency of the year by both Adweek and Advertising Age. More important, IPG's shops picked up an estimated $146 million in new yearly billings last year while losing only $37 million"

What the fundamentals say:
While Hough makes good points in the article, I don't like what the numbers show below. Even if management hits its growth targets in fiscal 2016 while expanding margins, the stock still seems to be trading above its fair value.
It's important to note that the projections used in the valuation models could end up being wrong. In fact, they will be wrong. However, the conclusions can still be telling. For example, if you project out a "doomsday" scenario and the company still looks attractive, that's usually a positive sign. Generally speaking, you never know how a company will perform in the future. However, you can make educated guesses about how a stock price will react if x, y or z happens.
Before making any investment decision, remember that you should always confirm the numbers make sense. Whether it's Barron's, your family or Warren Buffet, always rely on your own analysis.
Happy hunting! :)
---