Trump Tax Reform
Stocks are at all time highs three months following President Trump's November victory as the nation's 45th President continues to peddle tax reform and infrastructure spending. A "phenomenal" tax plan is expected to be released in the coming days while many analysts continue to believe it will include a proposal to reduce the corporate tax rate from 35% to 15%.
As soon as Trump took office, Wall Street strategists started recommending various stocks with high effective tax rates seeing that they would benefit most from a tax cut. Not surprisingly, many companies have seen their share prices reach new highs including Goldman Sachs' recommendations: Charles Schwab (NYSE:SCHW), Quest Diagnostics (NYSE:DGX) and Southwest Airlines (NYSE:LUV).
But are there any stocks that still appear fundamentally undervalued if President Trump does indeed follow through on his "phenomenal" tax reform?
5 Stocks That Could Still Jump 25% on a Trump Tax Cut
In order to find stocks that would benefit most from a US corporate tax rate cut, we searched for companies that:
1) Have historically paid an effective tax rate of over 30%, and
2) Generate more than 75% of total revenues domestically.
Then using finbox.io's google speadsheet add-on (will be released in the next few weeks to all finbox.io members), we filtered through our discounted cash flow (DCF) analyses to find stocks that are still trading below their intrinsic value when the tax rate assumption driving the model is reduced to 15%.
Five stocks immediately jumped out: O'Reilly Automotive (NasdaqGS:ORLY), Republic Services (NYSE:RSG), Tractor Supply Company (NasdaqGS:TSCO), Norfolk Southern (NYSE:NSC) and Vectren Corporation (NYSE:VVC).
Below is a side-by-side comparison of each company's projected free cash flows when adjusting the tax rate assumption. The left column calculates free cash flows and the resulting fair value when using the company's historical effective tax. The right column does the same but applies a 15% rate. Every other assumption driving the models is held constant.
Note that the default revenue, EBITDA, capex, etc. projections for each company are Wall Street consensus estimates as of 2/15/17.
O'Reilly Automotive has nearly 30% upside when the company's tax rate is cut from 37% to 15%.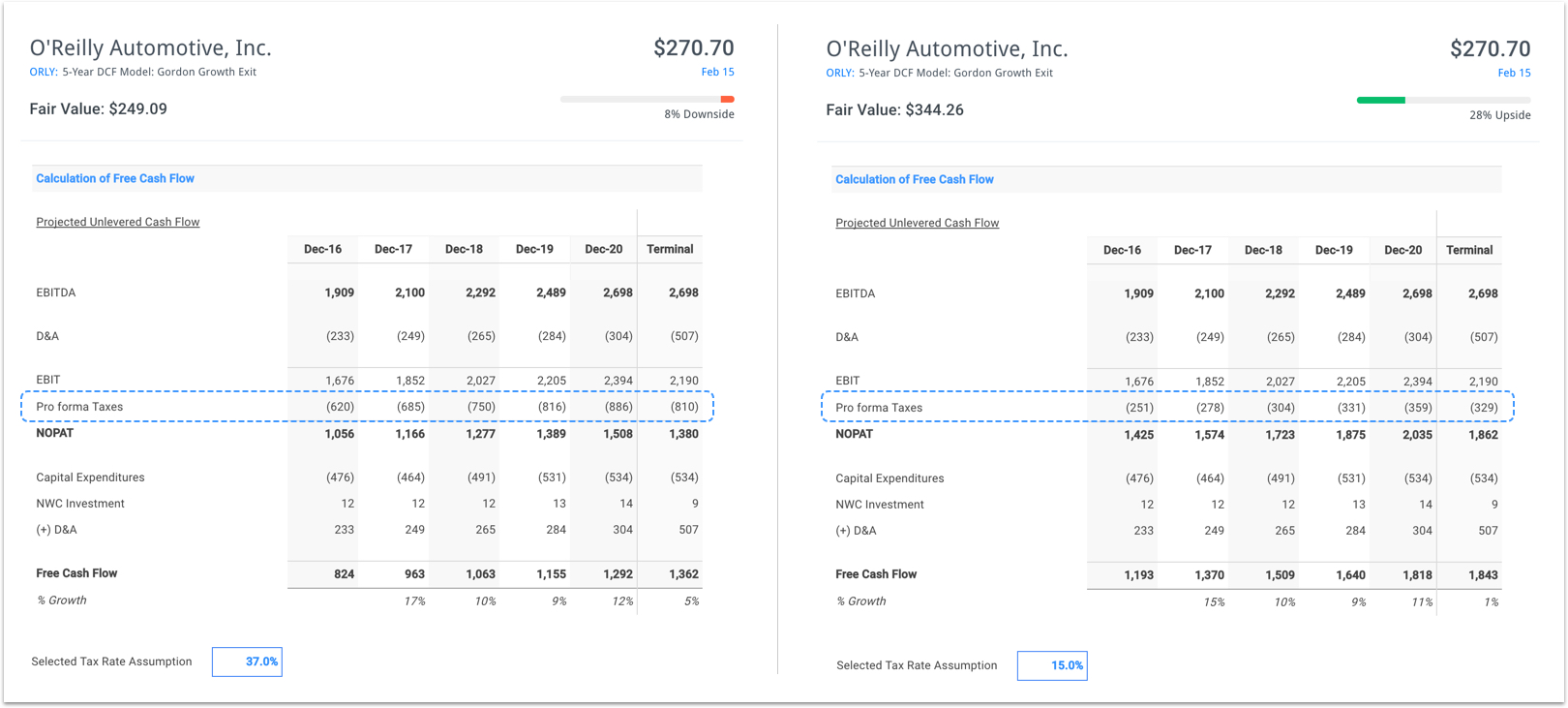 If tax rates were to remain unchanged, Republic Services appears to be 5% overvalued. However, don't be surprised if shares jump over 30% if the corporate tax rate were cut to 15%.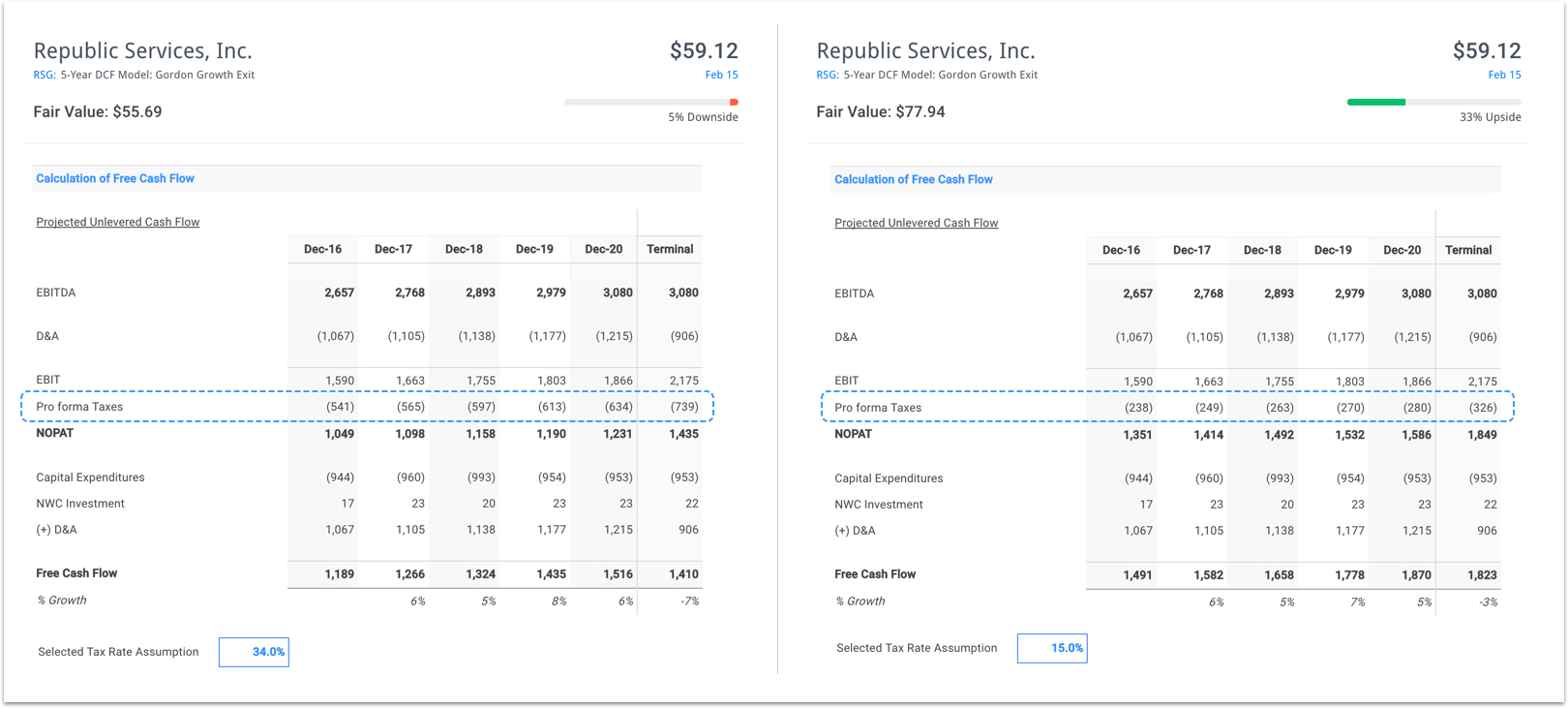 At a 37% tax rate, Tractor Supply has a negative 10% margin of safety. This figure jumps all the way to a positive 29% at the lower 15% tax rate.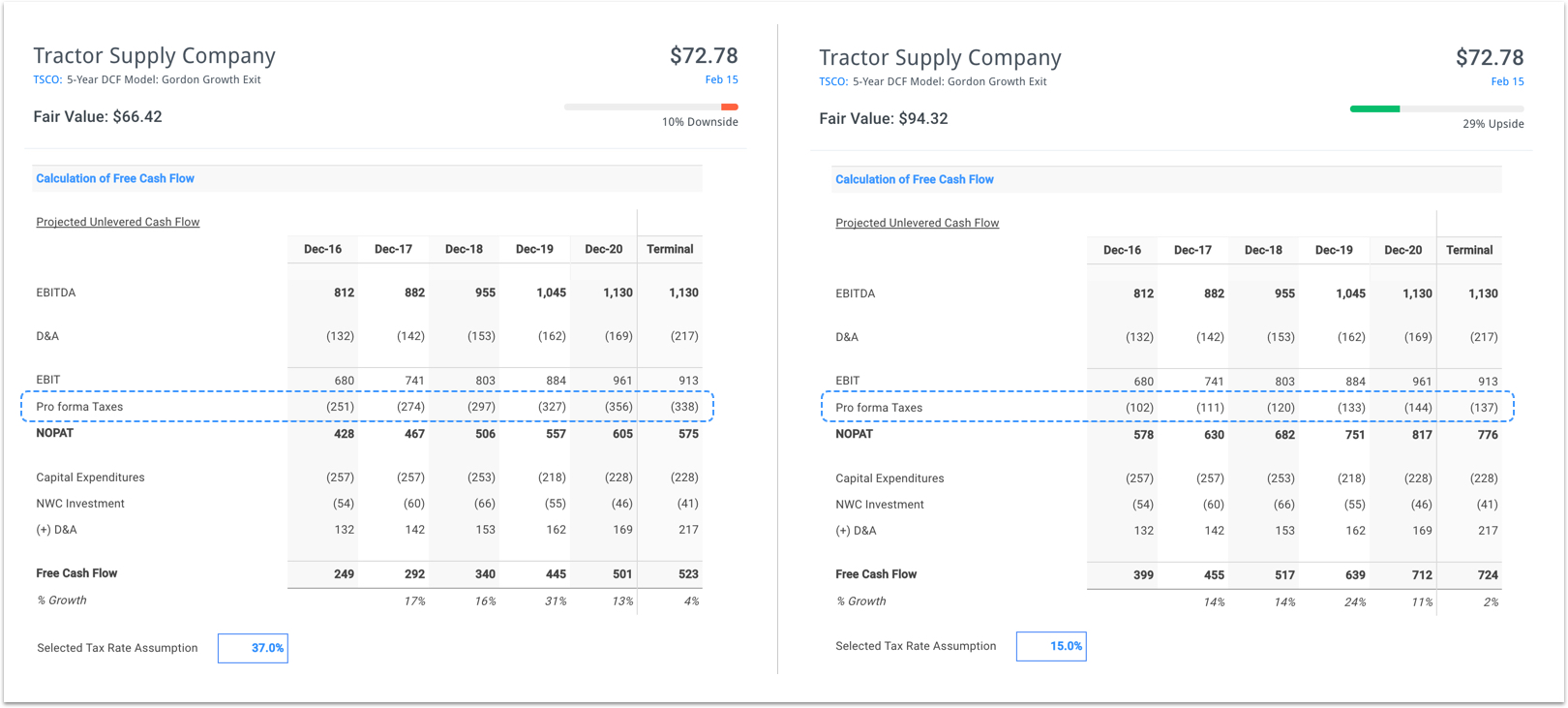 Norfolk Southern's tax payments get cut by more than half when implementing Trump tax reform. As shown below, this frees billions of dollars for the company that would otherwise go to Uncle Sam.

Vectren benefits the most out of the companies listed here. When applying its effective tax rate, the valuation implies that the stock's 8% overvalued. However, the model calculates 37% upside when applying the lower 15% rate.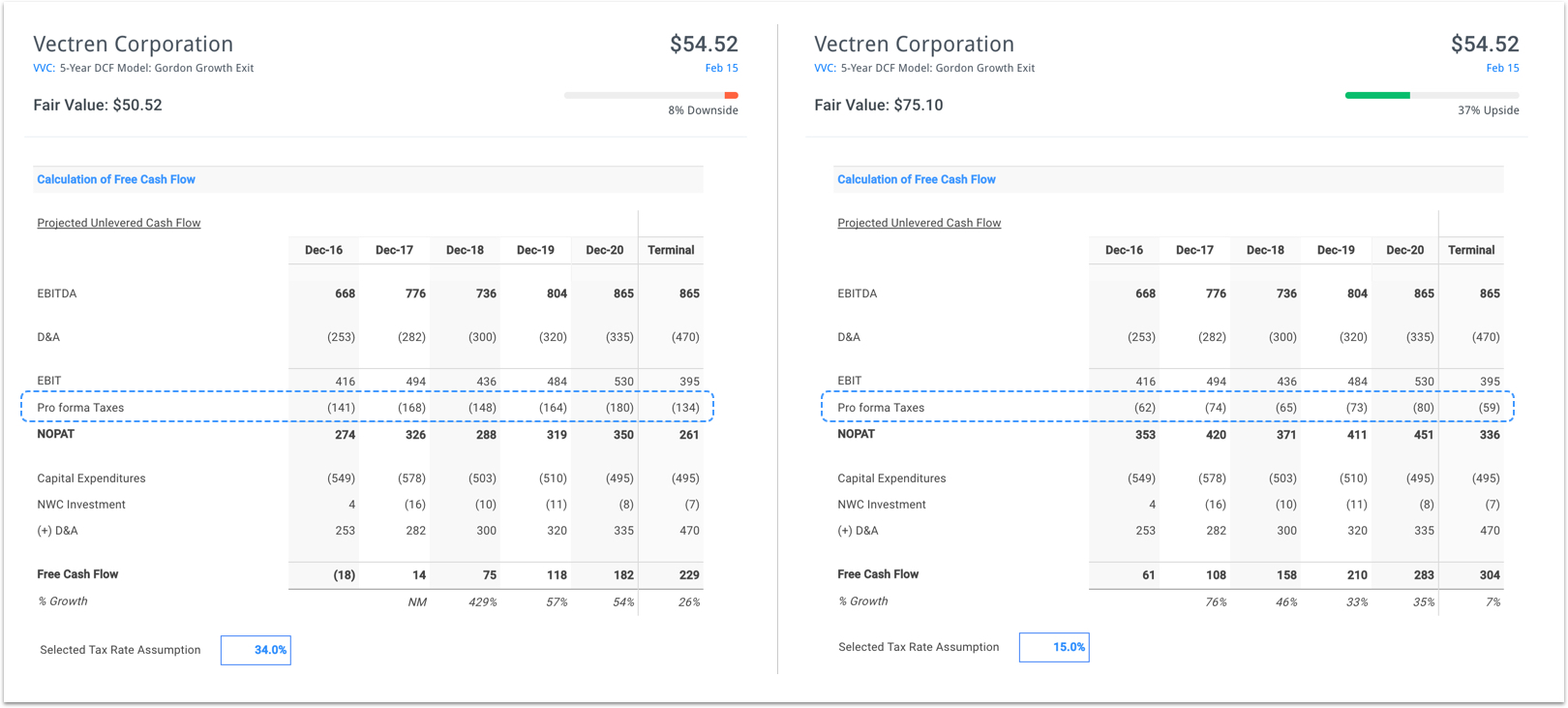 These high tax payors could still easily trade higher if and when President Trump follows through on tax reform. Value investors may want to take a closer look at these stocks before details of Trump's plan is released.
Get Started Now!
photo credit: GIIN