Q2'17 Earnings Surprises
This earnings season has been a story of surprises thus far with 350 members of the S&P 500 having reported as of Wednesday, August 2nd according to Zack's Investment Research. Although revenue and earnings growth is on the lighter side in comparison to Q1'17, the number of companies that have positively surprised investors is well above historical averages.
Sixty-eight percent (238 of 350) of companies that have reported Q2'17 results have beat their revenue estimates. This is well above the trailing 4-quarter average revenue beat percentage of 59.4% and the 12-quarter average of 57.0%. These positive surprises have left investors very happy, specifically because the surprises relate to revenue. It's well known how management teams can massage earnings around this time of year. However, revenues are much more difficult to manipulate.
As a result, all major market indices are at or near all-time highs. So let's take a look at stocks that could reach new heights on a positive earnings surprise this week.
---
5 Stocks That Could Takeoff On Earnings
According to this earnings screen, there are 676 companies expected to report earnings this week (8/7 - 8/11). Of these companies, the following five stocks stick out as they all trade well below their finbox.io fair value estimate: Michael Kors (NYSE:KORS), Liberty Interactive Corp (NasdaqGS:QVCA), Flowers Foods (NYSE:FLO), Blue Buffalo Pet Products (NasdaqGS:BUFF) and KAR Auction Services (NYSE:KAR).
Michael Kors - earnings expected August 8th
Established in 1981, Michael Kors is a leading global luxury lifestyle brand with approximately 960 retail stores and a footprint in over 100 countries. Led by founder and lead designer Michael Kors, the fashion house is credited for redefining the women's handbag.
Shares have been hammered the last few years as the company has struggled to address changing customer preferences and reduced foot traffic. Following Michael Kors' missed opportunity to buy Kate Spade, ultimately scooped up by competitor Coach (NYSE: COH), the company announced that it was acquiring Jimmy Choo for $1.2 billion on July 25th. Expect management to discuss this acquisition in more detail when they report earnings on Tuesday, August 8th.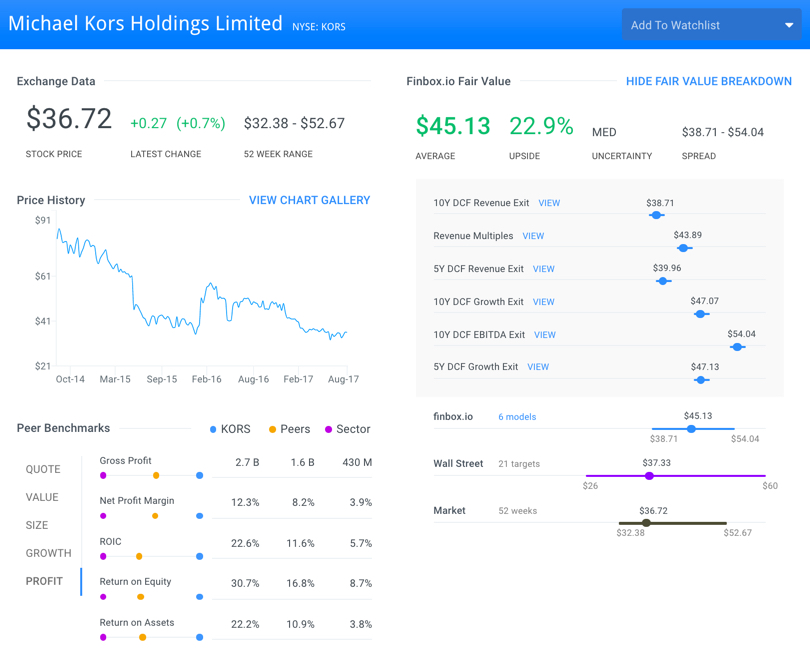 On a fundamental basis, the Michael Kor's shares look attractive at current levels. Six valuation analyses calculate an intrinsic value above $45 per share which implies 20% upside. It's also important to note that while the company has struggled in recent years, management has been able to keep profit margins and returns above its peer group and the sector average.
Liberty Interactive - earnings expected August 8th
Liberty Interactive, through QVC, sells various consumer products primarily through live merchandise-focused televised shopping programs, the Internet, and mobile applications.
Only July 6th, the company entered into an agreement to acquire the remaining 61.8% stake in its rival HSN, Inc. (NasdaqGS: HSNI) in a deal valued at $2.6 billion. Many analysts see the deal as a way to better compete with Amazon (NasdaqGS: AMZN) who has been dominating the retail environment. Again, expect management to discuss this acquisition in more detail when they report earnings on Tuesday, August 8th.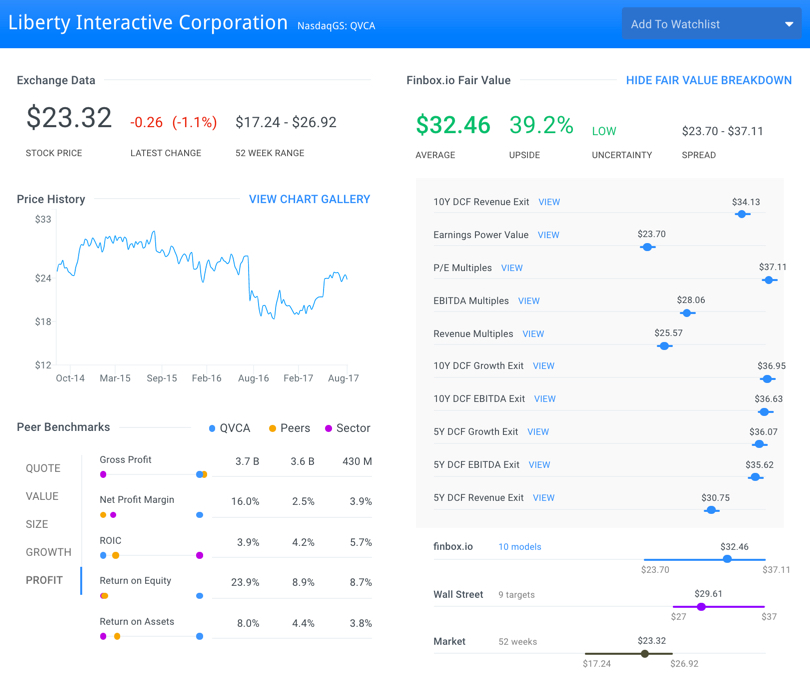 Ten valuation models derive Liberty Interactive's fair value estimate of $32.46 implying nearly 40% upside. For the upcoming Q2'17 announcement, Wall Street is expecting revenues and earnings to decline by 1.1% and 15.1% YoY, respectively. Expect shares to jump closer to fair value if the company posts positive growth.
Flowers Foods - earnings expected August 9th
Flowers Foods produces and markets bakery products in the United States. Wall Street expects Q2'17 revenues of $931 million which would represent a 0.5% decline YoY. The company will try and reverse its trend of missing its revenue estimate which it has done for six straight quarters.
On a fundamental basis, Flowers Foods' stock looks 20% undervalued as illustrated below.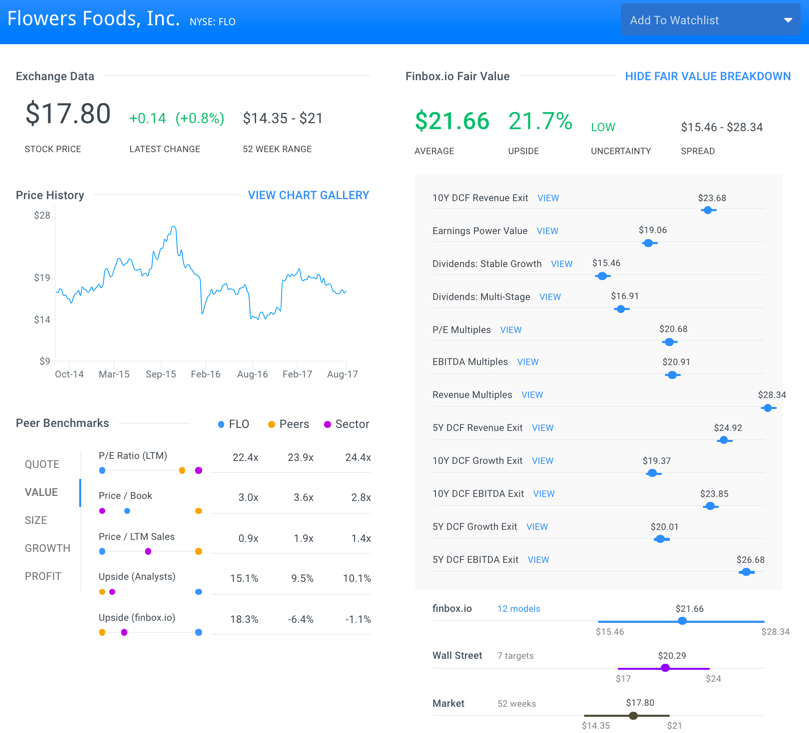 Blue Buffalo Pet Products - earnings expected August 8th
Blue Buffalo Pet Products operates as a pet food company in the United States, Canada, Japan, and Mexico. The company mostly sells dog and cat food under the Blue Life Protection Formula, Blue Wilderness, Blue Basics, Blue Freedom, and Blue Natural Veterinary Diet lines.
This is a high growth pet stock with a stellar track record. The company has beat its estimates every quarter except one since it IPO'd in July 2015. For the next five years, consensus estimates have revenues and earnings growing at 8.0% and 20.5% per year, respectively. However, shares are currently out of favor due to premium dog food competition concerns and trade well below their post IPO high of $27.94.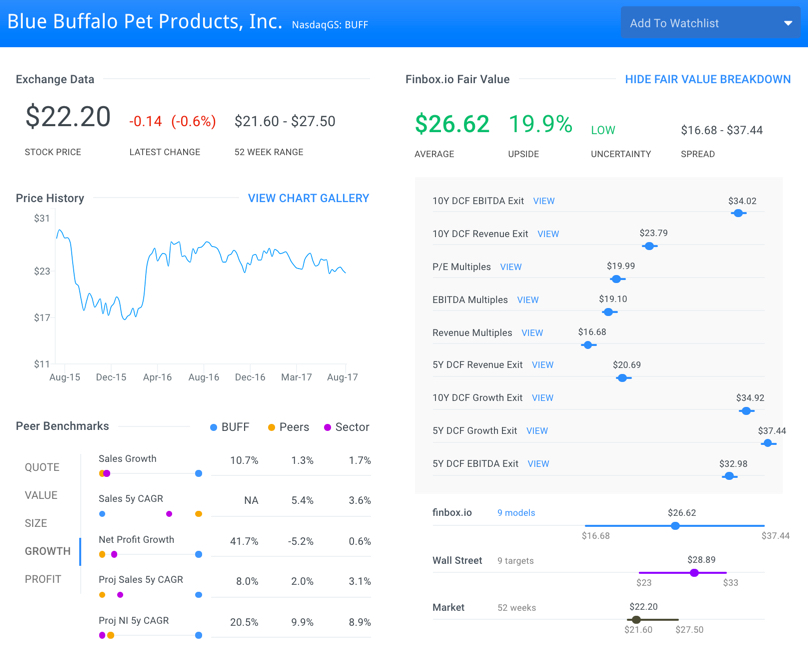 Finbox.io's fair value of $26.62 per share for BUFF stock is calculated from nine analyses and implies nearly 20% upside. The average Wall Street price target of $28.89 is even more bullish and implies 34% upside.
KAR Auction Services - earnings expected August 8th
KAR Auction Services provides vehicle auction services in the United States, Canada, Mexico, and the United Kingdom. The stock has steadily increased to $41.63 since its 2009 post IPO price of $12.03 (gain of 246%). However, shares have trended lower since its all-time high of $46.70 reached in mid-February.
On a future cash flow basis, finbox.io's DCF models calculate a fair value upwards of $60 per share. However, taking finbox.io's comparable companies analyses into consideration brings the valuation conclusion down to $49.80 (20% upside).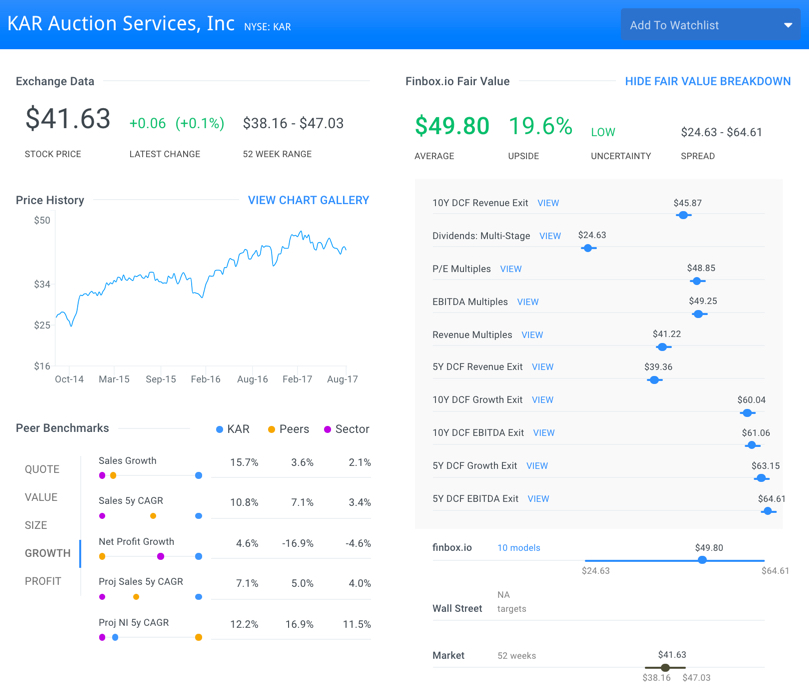 The five stocks mentioned above all have strong fundamentals and could easily trade significantly higher following a positive earnings surprise this week. Value investors may want to take a closer look at these names prior to earnings next week.
---
Note this is not a buy or sell recommendation on any company mentioned.
Photo Credit: ola15
---